Lee & Associates Arranges The Sale of A 40,040-Square Foot Mixed-Use Office Building in Santa Fe Springs, CA
February 22, 2022 (Santa Fe Springs, CA)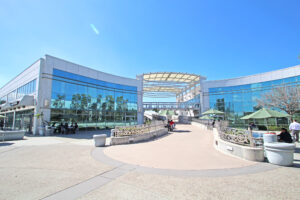 Lee & Associates, the largest broker-owned commercial real estate firm in North America, has arranged the $9,450,000 sale of a 40,040 square-foot mixed-use office building in Santa Fe Springs known as Heritage Springs.
The seller, Santa Fe Investors, LLC enlisted a team from Lee & Associates – Pasadena to add value to this asset through successful leasing. When the seller desired to diversify their portfolio into more NNN investments, the asset was well positioned for a sale and the same team members, John Berger, Christopher Larimore and Vincent Molitor, closed the deal.
The buyer, SFS Heritage Park, LLC invested in this asset to expand their footprint in this Southern California market and were represented by Jeff Rinkov of Lee & Associates – Commerce.
Originally built in 2000, Heritage Springs is incredibly unique with two high-identity glass office buildings with elevator service, connected via covered portico with a ground floor food court and inviting outdoor space and water feature. Terminating at the property is the 450-foot-long Heritage Springs pedestrian bridge used to access the Serene City Park and Sculpture Garden, built by the Griffith Company with a public-private partnership in 2000.
Located at 12215 Telegraph Road, the property is situated on a prime signalized corner intersection at Telegraph Road and Norwalk Blvd, which offer excellent street exposure to over ±42,121 cars per day. The property has nearby access to Interstates 5, 605 and 105.
###
ABOUT LEE & ASSOCIATES
Lee & Associates – Pasadena is a full service commercial real estate company headquartered in Pasadena, CA. Our client-focused brokers specialize in office, retail, tenant advisory, multifamily, and investment sales. As the fastest-growing broker-owned firm in the nation, with more than 60 office locations in North America, we are uniquely qualified to support our clients' real estate needs in the local, national and international markets. For more information, visit lee-pasadena.com.
###