GlobeSt. Women of Influence Awards 2022
June 16, 2022 – Pasadena, CA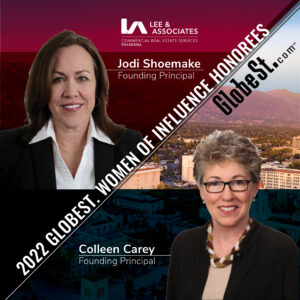 Lee & Associates – Pasadena's Jodi Shoemake and Colleen Carey have been selected as honorees in the GlobeSt.com/Real Estate Forum Magazine 2022 edition of Women of Influence under the "Broker – Landlord/Agency Representation" category.
JODI SHOEMAKE
Jodi Shoemake is a Principal and Shareholder with Lee & Associates – Pasadena, Inc. Ms. Shoemake brings experience, creativity and passion to servicing and understanding her clients' objectives. Her appraisal background provides a unique perspective of the latest market intelligence, property valuation and the changing dynamics of the Los Angeles region's real estate markets. Attention to detail, work ethic and a collaborative manner set her apart from the competition. Landlords know they will receive absolute attention to their needs and tenants trust in her ability to present their property or concept in the best light. Ms. Shoemake joined seasoned brokers to form the Pasadena office of Lee & Associates as Founding Principal and has since assisted in spearheading the recruiting and expansion of retail agents in the Tri-Cities and San Gabriel Valley. She approaches each day with a positive attitude and collaborates with quality professionals who respect the industry and meet challenges with integrity.
COLLEEN CAREY
Colleen Carey has twenty-four years of experience in Commercial Real Estate in the Los Angeles Basin. She has represented both property owners and tenants in commercial sale and lease transactions. Colleen has handled all types of properties from light industrial, land, multi-family, office and retail to investment properties within and beyond the borders of California. She has sold and helped clients acquire commercial properties ranging in size from 2,000 to 50,000 square feet. In her 20th year in practice, Ms. Carey co-founded Lee & Associates – Pasadena, a full service Commercial Real Estate firm. Her business is 100% referral generated. Clients have returned to utilize her services to sell the properties she helped them acquire over the years due to her thorough and professional approach to each and every client's real estate need. She provides superior attention to detail which produces top results for her clients.
Jodi Shoemake, Founding Principal
Lee & Associates – Pasadena
626-240-2780
Colleen Carey, Founding Principal
Lee & Associates – Pasadena
626-240-2782
Also published at: