Lee & Associates Pasadena Hires Gregory Kho As Associate
October 5, 2022 – Pasadena, CA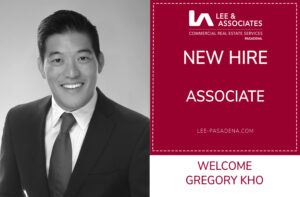 The Pasadena office of Lee & Associates is proud to welcome onboard a new Associate, Gregory Kho! With over 10-years of Corporate Finance experience as a debt capital provider, Mr. Kho has a deep appreciation and understanding of interest rates, cash flow and projected rates of return on real estate investments.  Mr. Kho's experience in commercial real estate began during his career in corporate finance, investing in multifamily properties in Los Angeles.  He has since expanded his commercial real estate experience to include tenant and landlord representation, investment advisory and capital raising.
"We are excited to welcome Greg as the newest member of our team and know he will provide great value to our office and the clients we all serve," said John Berger, President and Founding Principal of Lee & Associates – Pasadena.
< Click here to read Mr. Kho's resume >
About Lee & Associates
Lee & Associates – Pasadena is a full service commercial real estate company headquartered in Pasadena, CA. Our client-focused brokers specialize in office, retail, tenant advisory, multifamily, and investment sales. As the fastest-growing broker-owned firm in the nation, with more than 60 office locations in North America, we are uniquely qualified to support our clients' real estate needs in the local, national and international markets. For more information, visit lee-pasadena.com.