Lee & Associates Pasadena Hires David Chen As Principal
December 2, 2022 – Pasadena, CA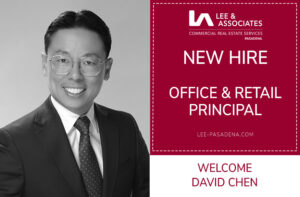 The Pasadena office of Lee & Associates has announced the addition of David Chen, who will specialize in retail and office property throughout Southern California.
Mr. Chen joins the office as a Principal. He graduated from UCLA with a Bachelor's of Art degree in Economics and from USC with Master degrees in Business Administration and Real Estate Development.
Before joining Lee & Associates – Pasadena, Mr. Chen was the Managing Principal for Sperry Commercial Global Affiliates in Pasadena. He has worked the San Gabriel Valley and Greater Los Angeles territory for the past 8 years.
Additionally, he has served as President of CCIM Greater Los Angeles and President of AREAA Greater Los Angeles. In his free time he enjoys playing USTA tennis and trying new whiskeys.
"We are excited to welcome David as a partner in our office and know that his extensive experience will add a great deal of value to our office and the clients we serve," said John Berger, President and Founding Principal of Lee & Associates – Pasadena.
< Click here to read Mr. Chen's resume >
About Lee & Associates
Lee & Associates – Pasadena is a full service commercial real estate company headquartered in Pasadena, CA. Our client-focused brokers specialize in office, retail, tenant advisory, multifamily, and investment sales. As the fastest-growing broker-owned firm in the nation, with more than 60 office locations in North America, we are uniquely qualified to support our clients' real estate needs in the local, national and international markets. For more information, visit lee-pasadena.com.