Flanigan's Enterprises, Inc Acquires New Sunrise Location on W Sunrise Blvd for $4.8MM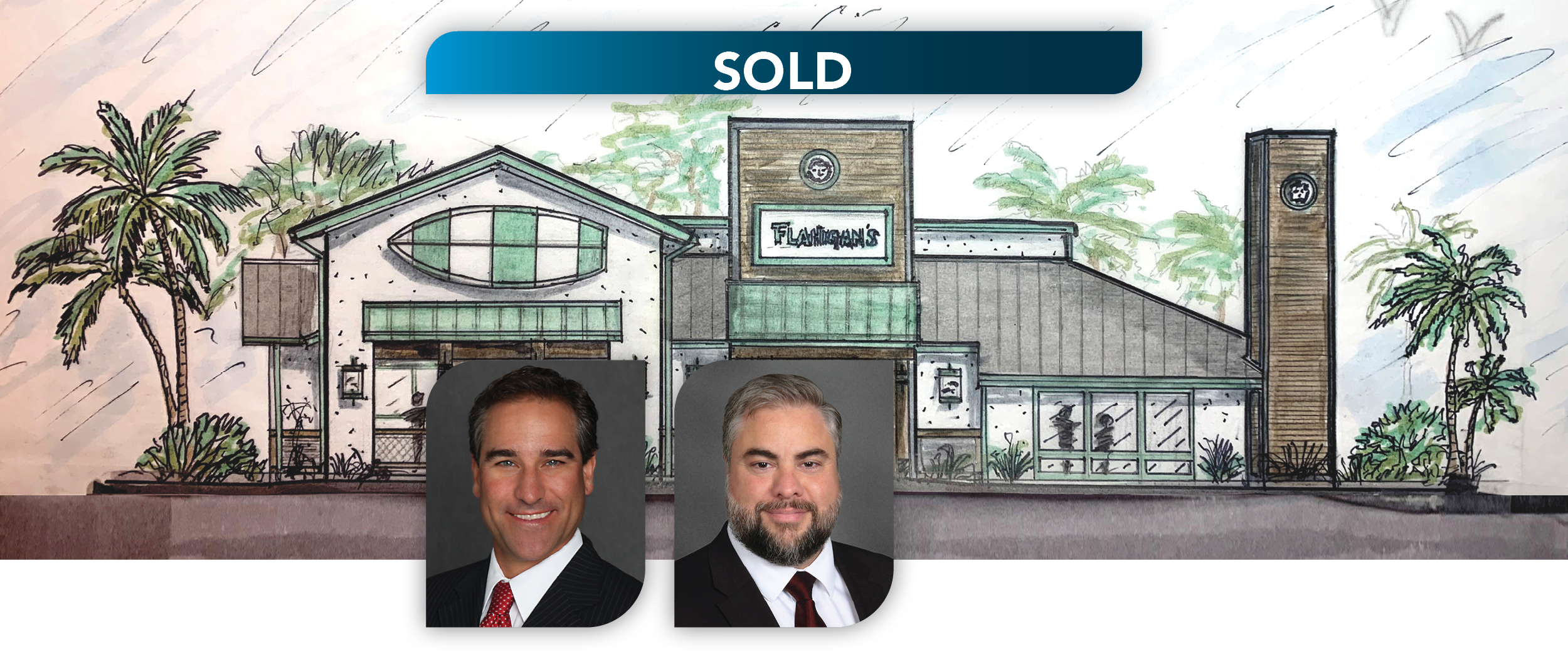 Lee & Associates South Florida Announces the Sale of Flanigan's New Sunrise Location on W Sunrise Blvd for $4.8MM
MIAMI, Florida— March 12, 2021 —Lee & Associates Commercial Real Estate Services announces the sale of second-generation restaurant property located at 14301 W Sunrise Blvd in Sunrise Florida sold to Flanigan's Enterprises, Inc. The expansion will be the 24th Flanigan's location and the first new location since its Westchester restaurant opened back in 2012.
Lee & Associates South Florida President, Matthew Rotolante, SIOR, CCIM, and Lee & Associates South Florida Principal, Victor Pastor represented both the Seller, Gary Thibodo Trust, and the Buyer, Flanigan's Enterprises, Inc, which traded on March 2nd, 2021 for $4,800,000. Lee & Associates had initially brokered a 10-year lease transaction between the parties in 2019 with the option to purchase included in the agreement, in which Flanigan's had begun preparing the redevelopment for the 6,891 SF freestanding restaurant site to host a new and unique design concept for Flanigan's that would fit nicely into the area.
"When the landlord told me he would like a family sports bar and restaurant, there was only one institution that came to mind that embodies South Florida culture and it's unique Marine environment… and it probably helps that I can walk to the original Flanigan's from my house in Coconut Grove," said Matthew Rotolante, Lee & Associates South Florida president.
Although the restaurant industry had been hard hit by the coronavirus pandemic, Flanigan's restaurants have been able to maintain a strong reputation as South Florida's favorite seafood chain.
The new Flanigan's location is strategically positioned for easy access to a broad new market area located blocks from the Sawgrass Expressway with direct frontage along W Sunrise Blvd,  a major thoroughfare between the expressway and the highly-visited Sawgrass Mills Mall, one of the largest outlet retail centers in the united states and a tourist attraction drawing thousands of new visitors to the area each year.
About Lee & Associates | South Florida
Lee & Associates | South Florida is a full service commercial real estate brokerage firm providing the highest level of service to South Florida's diverse industrial, office, retail, multifamily, investment and land sectors. Our dedicated team of professionals is led by Matthew Rotolante, a 4th generation Miami native in a family that has owned and operated commercial property in the South Florida market since 1928. Our bilingual culture allows for open communications throughout the company, fostering collaboration and information sharing. In addition, the Lee & Associates' robust national network that sold and leased nearly $16 Billion in commercial real estate in 2019 offers clients a cross-market platform of services and expertise across all asset specialties and representation roles.
Lee & Associates is a commercial real estate brokerage, management and appraisal services firm. Established in 1979, Lee & Associates has grown its service platform to include offices in the United States and Canada. Lee & Associates provides superior market intelligence in office, industrial, retail, investment and appraisal to meet the specialized needs of our clients. For the latest news from Lee & Associates, visit lee-associates.com or follow us on Facebook, LinkedIn, Twitter and Link, our company blog.