Conner Milford, Miami Today Discuss Warehouse Space Demand and Vacancy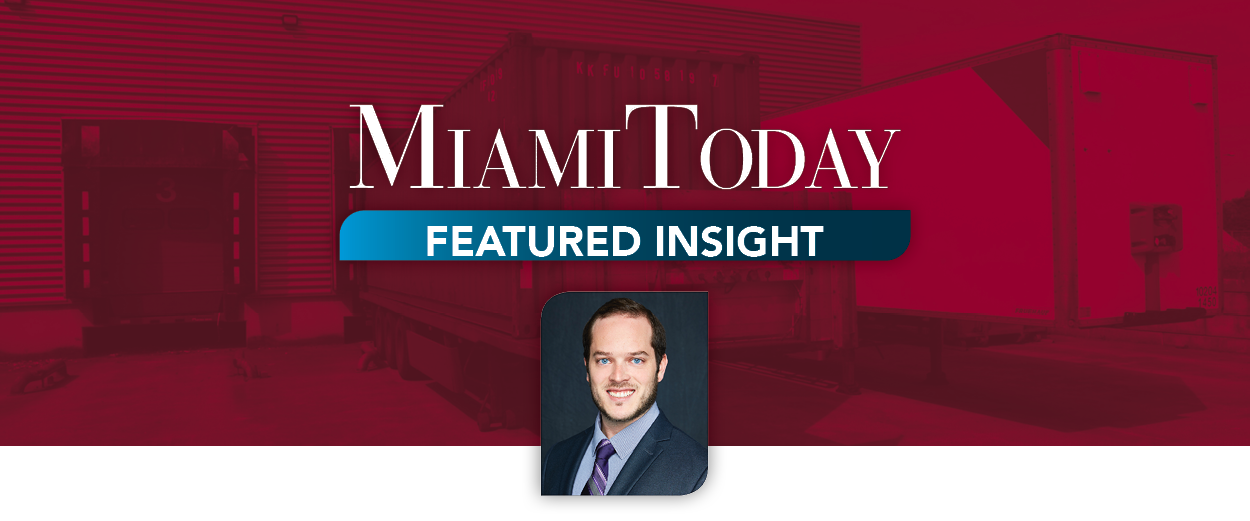 WAREHOUSE SPACE DEMAND HIGH, VACANCY A RECORD LOW.
Miami Today discusses the latest Industrial market trends with Lee & Associates South Florida's Industrial Specialist, Conner Milford.
February 9, 2023
By Abraham Galvan
The demand for warehouse space in Miami-Dade County continues to be competitive and property is scarce, according to local industrial real estate experts.
The county's warehouse industry is currently in a land-constrained market and that continues to really fuel the price increases because it puts a strain on the supply, said Conner Milford, vice president for Lee & Associates.
"Developers love to come down here and throw up million-square-foot buildings," he said. "There is just no room unless you go up north to St. Lucie and Fort Pierce, which we're certainly seeing that as well."
Since 2020, rents have grown considerably depending on the space, added Dalton Easton from The Easton Group. "It's in the mid to upper teens per square foot. In some cases, depending on the size of the space you're seeing $20 per square foot rents or more. It just depends on size and location."
The direct asking rate for industrial space was up 41.4% to an average of $15.15 per square foot during the last quarter of 2022, even when excluding the under-construction inventory that helps drive rates up, according to an Avison Young 2022 fourth quarter Miami industrial real estate market report.
Total vacancy in the fourth quarter was 2.1%, the lowest ever recorded. The direct vacancy has plummeted in recent years as South Florida continues attracting institutional tenants in search of large blocks, the report said.
Logistics and freight-forwarding companies are the main tenants that are absorbing the county's warehouse space, Mr. Easton added. "I don't see rates going backwards," he said. "We're still under-supplied. The space we're delivering is a fair amount this year, but it seems to have activity on it and it seems like its going to be absorbed."
Any company that wants to work with the Port of Miami really has gone out to the Beacon Logistics Park, which is the latest logistics and distribution built-to-suit park in Hialeah, Mr. Milford said. "They are 32-foot clear industrial buildings, even though that's almost filled up now as well."
There are still a few small spaces left at the Beach Logistics Park, said Ana Codina-Barlick, CEO of Codina Partners, the developer that manages the logistics and distribution built-to-suit park. "It has bee extremely successful. Our first two buildings were delivered last year and will have tenants moving in in the next 90 days. Even the last two buildings that we just started construction on are pre-leased."
The last two buildings are expected to be completed in the first quarter of 2024, Ms Codina-Barlick added.