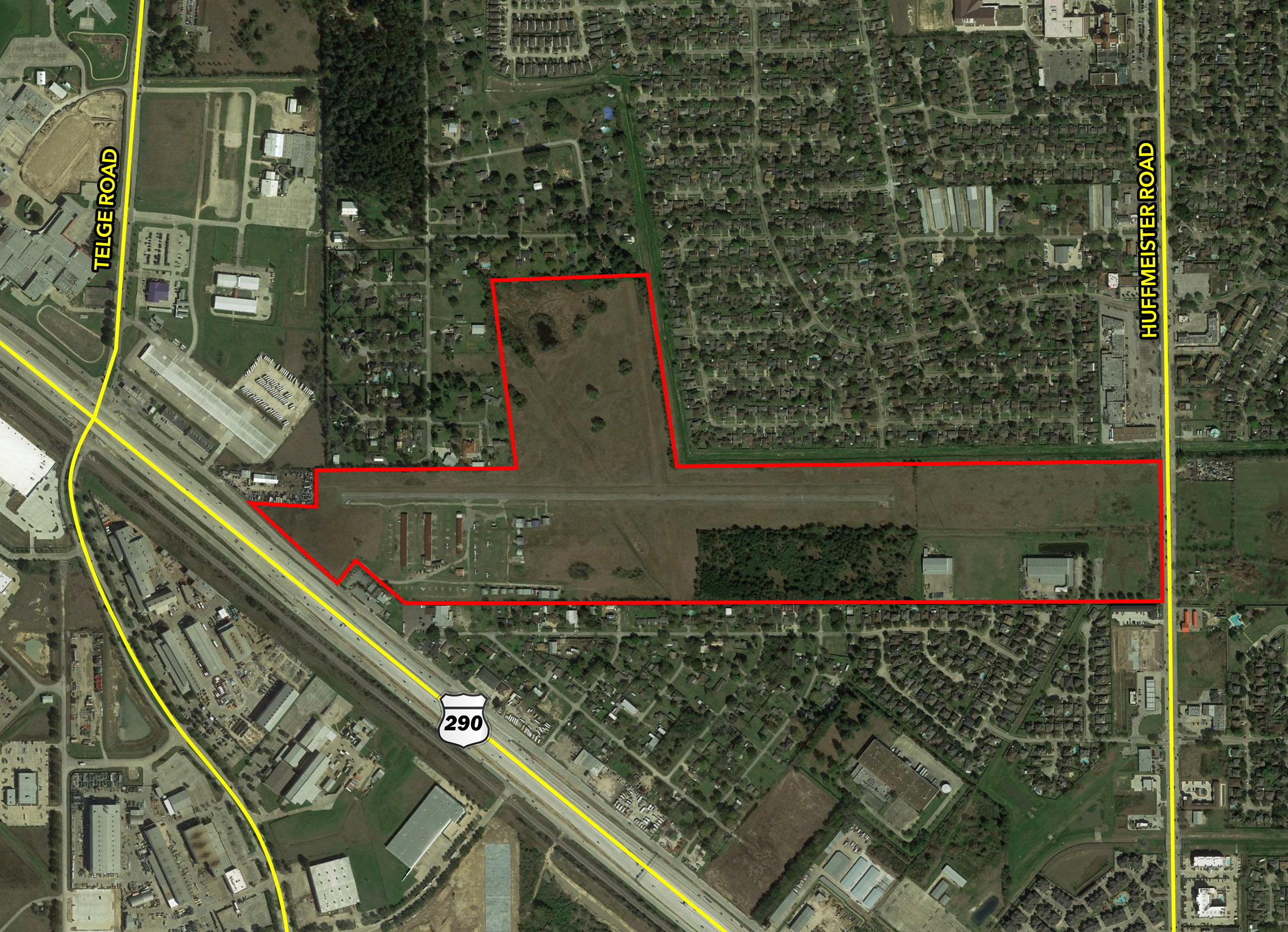 After more than 50 years of operating as an airport for smaller aircraft, Weiser Airpark in Cypress will soon become a massive industrial park following one of the largest land transactions of the year.
Dallas-based developer Trammell Crow Co., in a partnership with New York-based Clarion Partners, closed on the Weiser property at 21904 Northwest Freeway earlier this month. Terms of the deal were not disclosed. Trammell Crow and Clarion Partners purchased the 102.3-acre airpark from members of the Weiser family, who were represented by Wendy Cline of Wendy Cline Properties.
Separately, Trammell Crow and Clarion Partners purchased adjacent property at 10815 Huffmeister Road from Huffmeister Interests, bringing the total acquisition to 130 acres.  Terms of that deal also were not disclosed.
Reed Vestal, Taylor Schmidt and John Erck of Lee & Associates represented Trammell Crow and Clarion Partners on both deals. The two properties are located between U.S. Highway 290 and Huffmeister Road in Cypress. Data from the Harris County Appraisal District is incomplete for some parcels included in the two deals, so a total valuation of the property cannot be determined.
Vestal said the deal for Weiser Airpark came together over a period of several years. His firm had been in touch with the Weiser family for some time.  But it was only in early 2018 that the family decided it was looking to sell and listed the property.
"This is a piece of land that had a great deal of developer interest for a long time," Vestal said. "We wanted to find a group that would be the best fit for the property as far as the buyer is concerned before we approached them." Vestal said Trammell Crow was ideal to develop the property, given its long history of building top-flight industrial spaces.
"We knew this was going to be an industrial play all the way," Vestal said. "The access the property has and the way the submarket has been heading made industrial the logical conclusion." Vestal said the two properties are among the last — and largest — open spaces along U.S. 290 that are within Beltway 8.
Trammell Crow and Clarion Partners opted to purchase the additional parcels along with Weiser Airpark to "square up the property" and to ensure no other owners could raise issues with building an access road into the property, Vestal said. The two properties are able to fit a total of 1.8 million square feet of industrial space, or up to 1.2 million if a contract tenant desires a single, contiguous facility, he said. Construction crews are expected to begin work on the access road early next year.
Weiser Airpark opened in 1963. The public airport catered to smaller aircraft and private planes. With no employees, the facility maintains a self-service fuel pump and offered hangars on a first-come, first-served basis. The facility also was used for flight training classes. Vestal said the Weiser family signed a 90-day lease, which will allow them to wind down the airport's operations. The facility is scheduled to close in December.
Visit the original article at bizjournals.com