Three Things to Know About the State of the Houston Industrial Real Estate Sector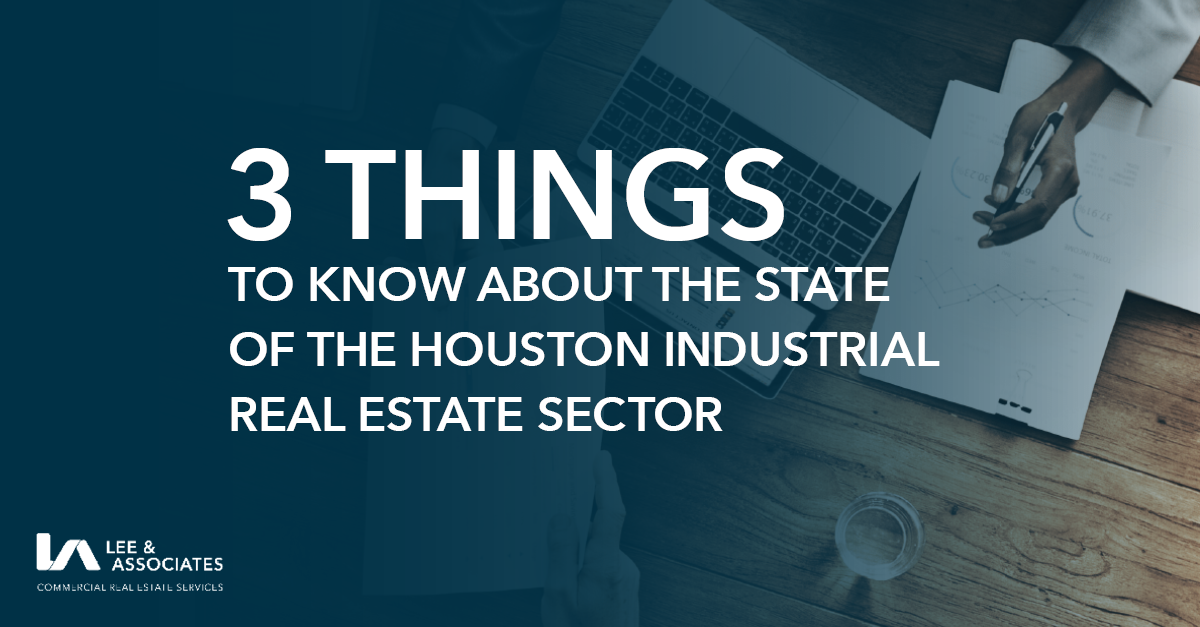 This past year, industries across Houston and beyond have been significantly impacted. With the COVID-19 pandemic and the election, the uncertainty of the future created hesitation for many to move forward with business, while others found new opportunities for growth and expansion. While all sectors of the commercial real estate industry were affected, today we explore the state of the industrial sector as we head towards the end of the year.
Houston, We Need More Space
One of the biggest shifts we have seen during COVID-19 has been the need for larger warehouse spaces in order to meet the immediate needs of the consumer. Since many customers and businesses switched to e-commerce during the pandemic, the demand for space has increased. As a result, one of the trends we are seeing is an increase in space capacity caused by the demand from national retailers and e-commerce giants like Amazon. Developers and landlords are now having to deliver additional features and amenities such as added trailer parking space, suitable loading docks and extra storage space to accommodate these tenant demands. It is a trend that the industry has been talking about for the last three years and it's something we can expect to continue to see for the foreseeable future.
The Growth of Distribution
While Houston has not been a distribution hub in the past because of our position along the Gulf Coast, it is quickly growing and becoming a distribution hotspot. As the fourth largest city in the country, we've predominately had more manufacturing, but developers and landlords are now seeing that we have a lot of opportunity for distribution. Like any city, we have our shortcomings, but we are on track to catch up to larger distribution cities in the south like Dallas and Atlanta. Five years ago, some developers and landlords would not even consider Houston as an option for investment, but that has quickly changed. With vast opportunity for development, West Houston and far East Houston are gaining traction due to the available land. In regard to growth, South and South West Houston have the most opportunity of bridging the gap to meet the demand.
Wins and Losses
 Even though there is still uncertainty about the future, construction has not stopped. There are fewer tenants in the market, but demand has picked back up and is returning to pre-COVID levels. Although demand has begun to trend up, the still record levels of construction that had started prior to the pandemic did not pause and have created more of a tenant's with landlords offering more concessions to win deals. The impacts of COVID-19 will linger, and one of the trends we will continue to see is the consolidation and downsizing of manufacturing facilities. As a result, rates have decreased and these buildings are staying on the market longer. As more manufacturing locations consolidate, we will start to see more of these facilities come on the market, and we can expect to continue to see these consolidations in manufacturing over the next 24 months.
By: Preston Yaggi, SIOR, CCIM & Chase Cribbs, SIOR
Lee & Associates – Houston is a fully-integrated, commercial real estate company. Our business-minded brokers specialize in office, industrial and land real estate investments. As the fastest-growing, broker-owned firm in the nation, we are uniquely qualified to support our clients' needs in the local, national and international markets. To learn more visit www.lee-associates.com/houston.
Chase Cribbs is a principal at Lee & Associates – Houston and represents owners, users and tenants of industrial properties in Houston's northern sub-markets. Preston Yaggi, SIOR, CCIM joined Lee & Associates – Houston in 2015 as a principal and specializes in the leasing and sales of industrial properties, as well as the design-build and build-to-suit processes.