Westside 10 Industrial Park Comes On The Market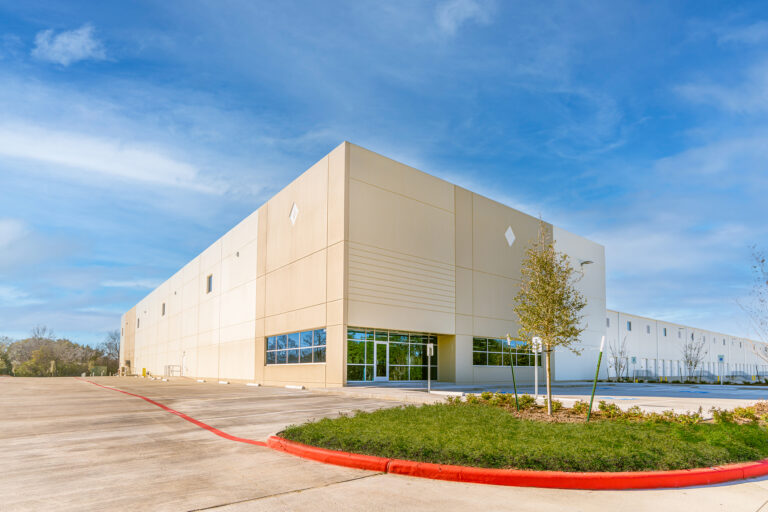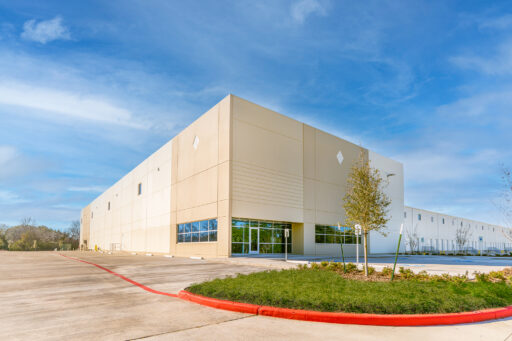 January 27, 2023 (HOUSTON) – Lee & Associates – Houston, a nationwide leader in commercial real estate services, announces more than 167,000 square feet of space available at 814 FM 1489 in Brookshire, Texas. Robert McGee, SIOR, principal, Taylor Schmidt, SIOR, CCIM, principal, and Austin Bartula, associate, are managing the leasing of the building.
Growth Capital Partners (GCP), the Birmingham-based private real estate investment company, and Houston-based developer Phelan-Bennett completed Westside 10 Industrial Park for GCP's Fund II. The energy-efficient industrial building boasts more than 3,800 square feet of speculative office space, 38 dock doors, 12 dedicated trailer parking spaces, a 60-foot speed bay, two 12-foot-by-14-foot overhead doors with ramps, 149 car parking spots, and the ability to be fully fenced and secured.
This is GCP's first industrial development in Houston and one of the first ground-up industrial developments to go vertical for Corvus Construction, a well-known leader in the industrial construction industry. Corvus provides innovative, specialty building materials that support not only a building's sustainability but also its durability. GCP Management Services will provide property management.
Michael Flynn, GCP's development manager, said, "This is the first of six properties in development to deliver in our forward-progress agreement with Phelan-Bennett. We are excited to add such a quality product to our portfolio and to plant the GCP flag in Texas."
"The far west submarket has recently become a new home to large industrial giants including Tesla, Igloo, Amazon, and many more," said McGee. "The location of Westside 10 Industrial Park makes it easily serviceable not only to Houston but also to the Austin and San Antonio markets. This site has the lowest tax rate (2.78%) in the area and some of the best access off I-10."
"After over a decade of serving Phelan Bennett's leadership team in the tenant improvement market, I am proud Corvus has expanded our services to our long-term partners," said Will Thornton, president, Corvus Construction.
For more information about this property, visit the Westside 10 Industrial Park listing page.
About Lee & Associates – Houston
Lee & Associates – Houston is a fully-integrated commercial real estate company with unrivaled market knowledge and an unwavering commitment to integrity and excellence. Our business-minded brokers specialize in office, industrial and land real estate investments. Lee & Associates – Houston is part of a nationwide network of brokers in more than 65 offices in North America. The brokerage is uniquely qualified to support our clients' real estate needs in Houston, across Texas and throughout the US. For more information, visit lee-associates.com/houston.
About Growth Capital Partners 
Growth Capital Partners (GCP) is a fully integrated owner, operator, developer, and manager of industrial properties. Based in Birmingham with regional offices in Atlanta and Jacksonville, GCP invests in highly functional industrial assets within markets that possess strong economic, demographic, and real estate fundamentals. The company creates portfolios comprising high-performing, appropriately levered properties located within markets with strong population growth, key logistics infrastructure, and proximity to supply-constrained population centers. For more information, please visit gcprei.com.
About Corvus Construction Company
Founded in the early 90s, Corvus Construction Company, Inc. (Corvus) is an established general contractor serving Houston and the surrounding areas. Corvus has built a solid reputation for delivering a quality product, on time and within budget. After 30 years of focusing on commercial interiors, Corvus expanded its reach, moving into ground-up construction. Its focus has been to build a team with a wealth of experience in ground-up construction. For more information visit corvusconstruction.com.
About Phelan Development Company
Phelan Development Company is a privately held real estate company specializing in acquiring, developing, and managing high-quality industrial, retail, and mixed-use projects throughout the United States. The firm is headquartered in Southern California, with offices in San Francisco, Houston, Portland, and Chicago.  Geographical portfolio and development presence include Oregon, Washington, Nevada, Arizona, Utah, Idaho, Texas, Illinois, Tennessee, South Carolina, and North Carolina, with further plans for expansion. Phelan's talented team of professionals has led and developed more than $5 billion in commercial development, with a "hands-on" approach to ownership and execution while working closely with clients through every phase of a project. The team's expertise and attention to detail have established a reputation for developing and managing attractive, well-designed buildings that meet the diverse needs of our customers. Visit phelandevelopmentcompany.com for more information.