Case Study – 1712 Dexter Ave N | Triplex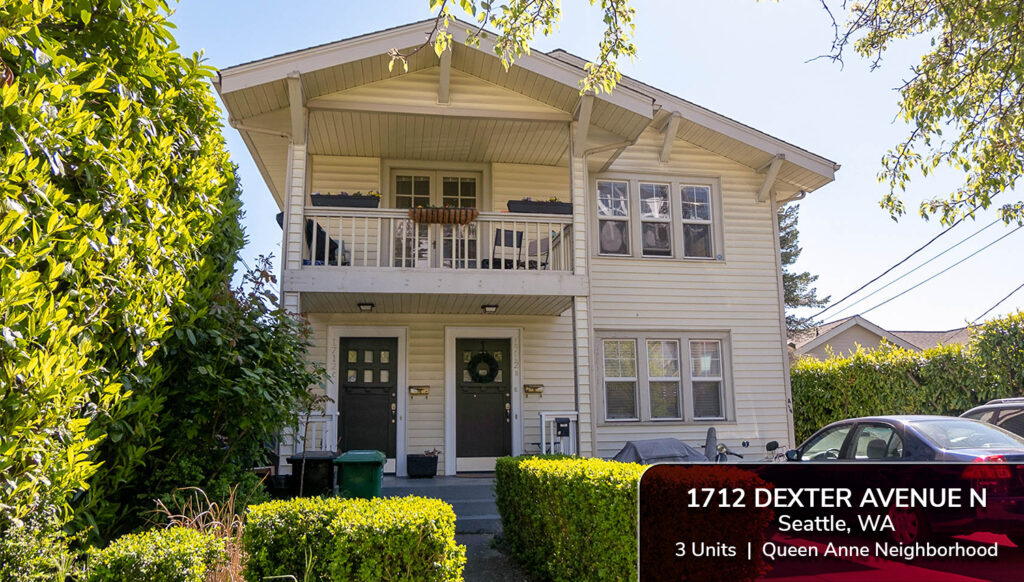 Key Deal Points
1712 Dexter Avenue N, Seattle, WA
Sales Price: $1,253,250
Listed to closed in 65 days
Multiple offer scenario in a turbulent and uncertain market
"Candice and Daniel were great to work with. They listen to your goals and provide a plan that pulls it all together with the attention to detail that results in success. We sold a triplex in Seattle and completed and exchange into an 8-unit apartment on Whidbey Island on a short timeline.   Everything fell into place due to the proactivity of Candice and Daniel to understand and execute on specific timelines.   If you want to get a project done smoothly and on time Candice's and Daniel can make it happen."

- Scott Sanderson, Client
For more information regarding this case study, please contact:
Candice Chevaillier, CCIM
Principal
D  (206) 773-2694
cchevaillier@lee-associates.com
Daniel Lim
Senior Associate
D  (206) 773-2692
dlim@lee-associates.com
The Challenge
Now based in Snohomish County, this client's goal was to transition their Seattle holdings and into larger and nearer assets. As finding a good opportunity in the Snohomish market is rare and requires swift action by buyers, this client found and went under contract on the perfect opportunity.  With his pending purchase contingent only on their sale of this Dexter Avenue property, they had to move extremely quickly in order to perform the exchange.
Our Approach
Over the years, Candice and Daniel tracked this client's progress in executing the movement of holdings north, and meeting with him to provide valuations on his buildings and refine his plan, enabling them to act quickly when the right opportunity presented itself.  Once they found the right property, 8-units on Whidbey Island, Candice and Daniel swung into action for their client.
Having built up a file on Dexter, they were familiar with the building and were able to quickly prepare it for market. After just a few days on the market, flames were added to the fire when the client was notified that he must waive his contingency on the sale of Dexter due to a competing offer being submitted on the Whidbey property.  Candice and Daniel made pricing recommendations and took on an aggressive marketing strategy including multiple buyer and agent email campaigns along with a rooftop calling program.
Working on an expedited timeline, their efforts ultimately resulted in three offers, creating a competitive scenario in which their client was able to choose a buyer that not only offered the strongest terms but also surety of close. Now able to waive all contingencies on the Whidbey property with confidence and proceed in completing the exchange, their client accomplished his objective of moving into a larger, and closer asset.
The Outcome
Listed:  October 27, 2020
Under Contract:  19 days from listing
Closed:  65 days from listing
Closed on Upleg: 73 days from listing
Competing Offers: 3
NEW FROM THE MEDIA CENTER...