Case Study – 1938 11th Avenue W | 7 Units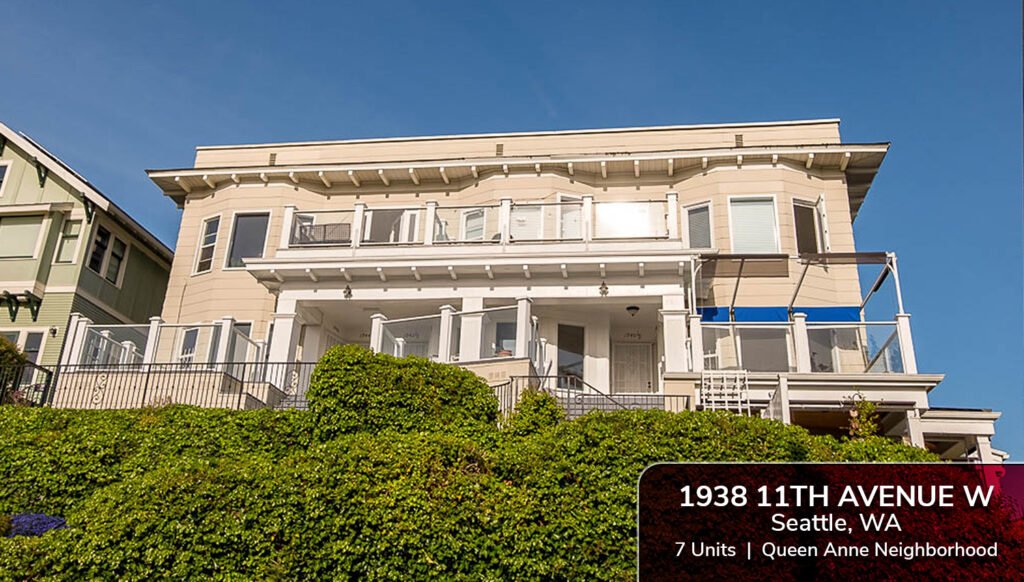 Key Deal Points
1938 11th Avenue W, Seattle, WA
Classic 7 unit with sweeping views
Competitive multiple offer situation
Negotiated pricing $200K under List
Current cap rate was over 5%
Mutual acceptance to close in 47 days
The Lee & Associates team led by Candice Chevaillier assisted us to a great extent in achieving our investment goal with this purchase.  Their attention to detail and ability to discern our needs was remarkable. 

We have purchased many investment properties before, both single- and multi-family, and this transaction was the smoothest and the most efficient ever in our 30-year investment career.

- Tanya & Lev
For more information regarding this case study, please contact:
Candice Chevaillier, CCIM
Principal
D  (206) 773-2694
cchevaillier@lee-associates.com
Daniel Lim
Senior Associate
D  (206) 773-2692
dlim@lee-associates.com
Dea Sumantri
Associate
D  (206) 773-2680
dsumantri@lee-associates.com
The Challenge
These investors were looking for a specific opportunity in the Queen Anne market.  They had been working with a residential agent who had helped them with other single-family investments over the years.  When it came time to purchase an apartment building, they found that having representation with skill set specific to apartment buildings would be of particular benefit. Through their mortgage lender, they got connected with the Lee & Associates Multifamily team.
Our Approach
The Lee & Associates Multifamily team understands that relationship is crucial in this business. We also believe that it is important to work collaboratively with all parties in a transaction, in this case, including the Buyers' residential agent who did the initial work.  Structuring an arrangement where all parties were compensated for their efforts led to a successful outcome.
Once brought on as the official buyer representative, our team was able to immediately add value by listening to the Buyers' history with the Seller and isolate challenges with the initial offer which was not accepted by the Seller. Candice has built a rapport with the listing agent over the years and had learned about the Seller's motivation to sell and also specific needs as a resident of the property.
Candice, Daniel and Dea crafted an offer which included a main element that was attractive to the Seller. The offer included a lease-back to allow the Seller to remain as a tenant while searching for a new property to purchase.  While the Seller received multiple offers at the time the offer was submitted, our offer prevailed. Working together with the listing agents, Buyers, lender and escrow officers, we successfully closed within 47 days.
The Outcome
Balancing buyers' goals with understanding the sellers' motivations is a particular talent of the Multifamily team.  One of our team's key strengths is in the ability to create strategic offer terms that speaks both to the seller and at a price that immediately creates value to our buyer.  The Lee & Associates Multifamily team's experience in buying and selling apartment buildings has made the difference to prevail in a competitive bidding environment.
NEW FROM THE MEDIA CENTER...