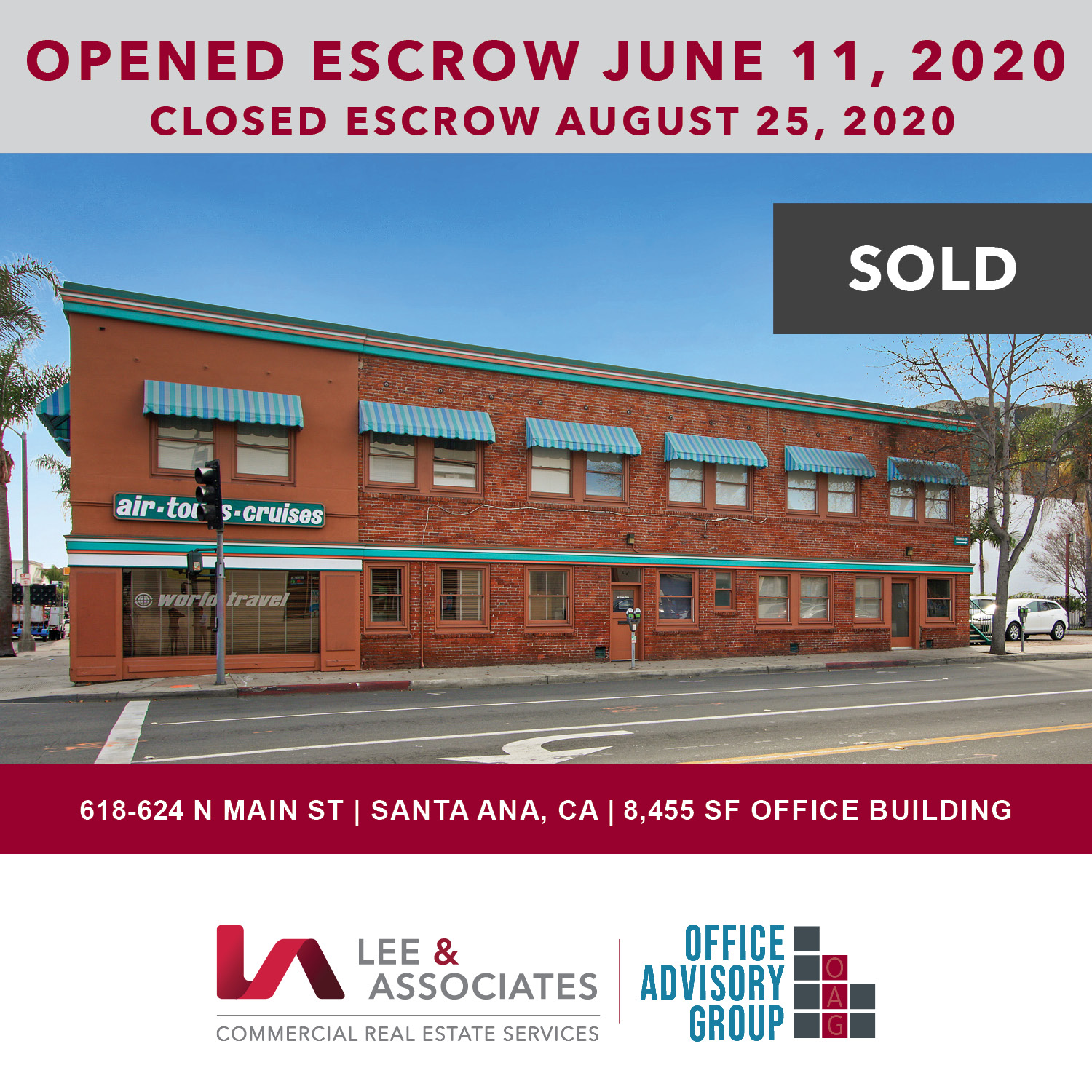 For more information, please contact:
MARSHAL J. VOGT
Principal
(714) 564-7117
BRE #01519213
Email | View Profile
Sold!!!
SANTA ANA, CA | August 29, 2020 - The Office Advisory Group of Lee & Associates-Orange is pleased to announce the sale of the historic World Travel Building at 618-624 N Main St in Downtown Santa Ana. The one-of-a-kind freestanding office/retail building located in the center of Santa Ana's urban transformation sold to an owner/user who will occupy a portion of the building for their construction business and rent out the remaining space. The building is approximately 8,455 SF (including basement) and has onsite parking. The building presents major signage/frontage along both Main Street and Civic Center Drive.
With a sales price of $2,100,000, the transaction represents one of the first owner/user office building sales in all of Orange County since the onset of the COVID Pandemic.
The Client
"After interviewing multiple brokerage teams, we engaged the Office Advisory Group to find a buyer for our office building in Downtown Santa Ana. From day 1 their team did exactly what they told us they would do and always kept us up to date with activity. Burdened with difficult timing due to COVID-19, they were able to find a solid buyer who closed on time amidst dealing with numerous unforeseen issues during due diligence. We would recommend OAG to anyone looking to sell their property."
Tom Dore, Tom Jackson & Sharon Jackson | Seller
ABOUT THE OFFICE ADVISORY GROUP
The OFFICE ADVISORY GROUP provides expert commercial real estate brokerage and advisory services for building owners, tenants/occupants, and investors throughout Orange County, Southern California and beyond. As owners of commercial real estate property and owners of our company, we understand the decisions, trials, and tribulations our clients face. With firsthand experience, we are able to offer expert advice strategically focused on the needs of owners, and we have the authority to make decisions directly related to the assignment at hand without any corporate interference or delays. When we formed the OFFICE ADVISORY GROUP, we implemented a motto: "Persistence is everything!" What does this mean to our clients? WE NEVER GIVE UP!!! Our 3-member team is engaged with every assignment and each one of us will see every sale, investment, lease, etc. to the end.
ABOUT LEE & ASSOCIATES
Lee & Associates offers an array of real estate services tailored to meet the needs of the company's clients, including commercial real estate brokerage, integrated services, and construction services. Established in 1979, Lee & Associates is now an international firm with offices throughout the United States and Canada. Our professionals regularly collaborate to make sure they are providing their clients with the most advanced, up-to-date market technology and information. For the latest news from Lee & Associates, visit lee-associates.com or follow us on Facebook, LinkedIn, Twitter, and Link, our company blog.
###