Lee & Associates South Florida Q1 Market Report: Historically Low Industrial Vacancies, Brisk Leasing Activity in Region's Office Market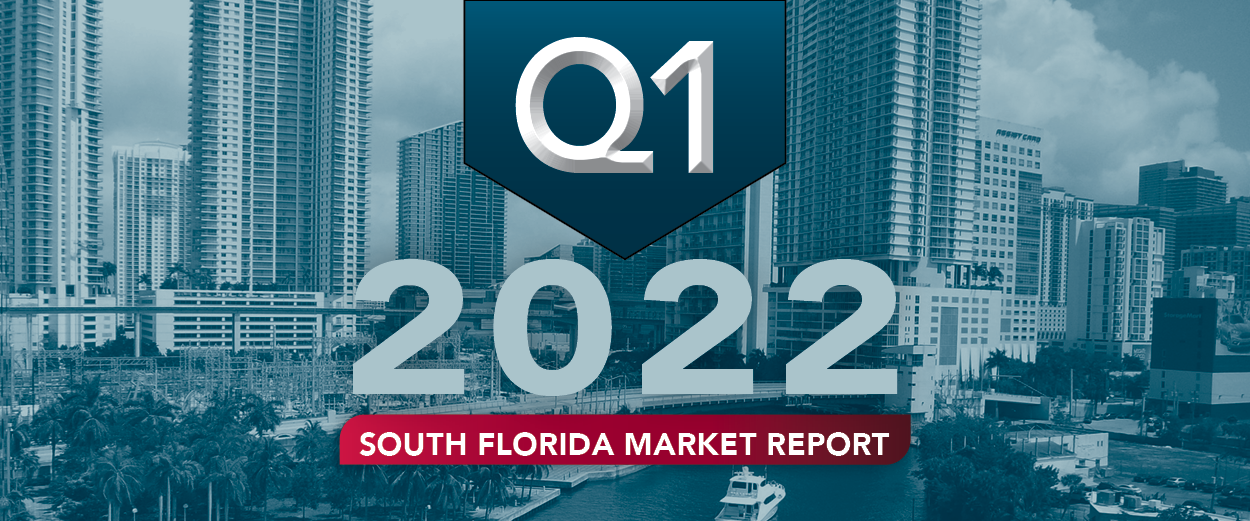 Historically Low Industrial Vacancies, Brisk Leasing Activity in Region's Office Market
Multifamily rents continue to surge, while local retail sector outperforms national average
MIAMI, FL (April 27, 2022) – Feverish demand is keeping supply levels tight across numerous South Florida commercial real estate sectors, according to Lee & Associates South Florida's Q1 2022 market report. Most notably, the region's industrial vacancies continue to reach historic lows – with available land for new construction at a premium.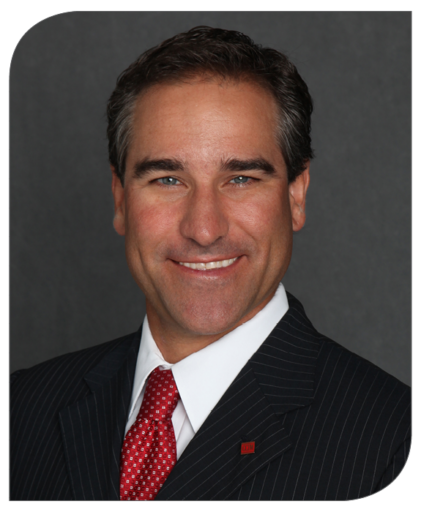 The tri-county area of South Florida closed the first quarter of 2022 with a razor-thin 2.9% industrial vacancy rate, which was a full 1.5% below the region's vacancy rate a year earlier. Asking rents rose approximately 14% year-over-year to $11.96 per square foot triple net (NNN). Domestic and international demand for South Florida industrial product should continue to fuel rent increases in the second quarter of 2022 and beyond.
"Industrial real estate is not easily substituted or readily increased," Lee & Associates South Florida President Matthew Rotolante said. "In a land-constrained market like South Florida, that means rental rates and property values will keep increasing. Creative solutions, such as vertical warehouse construction, are needed to address the unprecedented demand."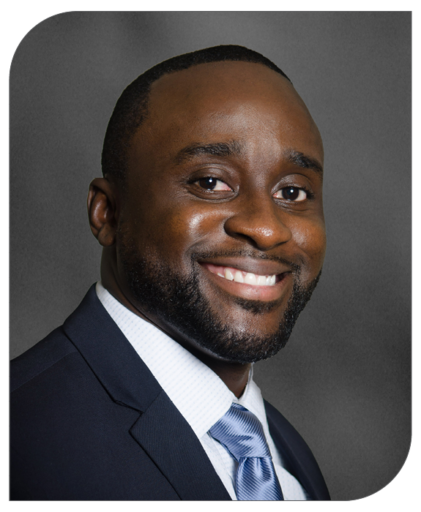 In the multifamily sector, South Florida's vacancy rate plunged from 5.3% in the first quarter of 2021 to 3.3% in the first quarter of 2022. That is also well below the national average of 4.8%. Asking rents concurrently jumped year-over-year from $1,673/month to $1,992/month.
"Now that the anticipated interest rate increases are finally here, multifamily buyers are even more motivated to tie up any and all available assets in South Florida," Lee & Associates Senior Vice President Patrick Montelus said. "Meanwhile, sellers continue to take advantage of historic prices and narrow cap rates. We anticipate seeing more nine-figure trades involving large-scale apartment communities in the months ahead."
South Florida's office market was again one of the hottest in the nation during the first quarter. Domestic migration to the region, especially from the technology and finance sectors, is resulting in surging rents at Class A and B office buildings in urban core submarkets. Average asking rents jumped from $30.78 per square foot NNN in the first quarter of 2021 to $33.96, with vacancies dropping from 10.4% to 9.3% year-over-year.
"Financial and tech companies continue to drive the steady pace of leasing in the region," Lee & Associates South Florida Senior Vice President Matthew Katzen said. "In Miami, demand is spreading from core business districts such as Downtown Miami and Brickell into Wynwood, Coral Gables and Coconut Grove – among other submarkets. While national inflation is causing local economic impacts, the overall outlook for the region's office market is very positive."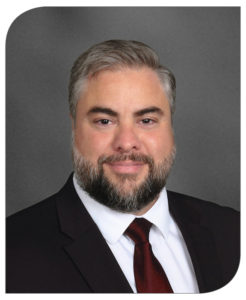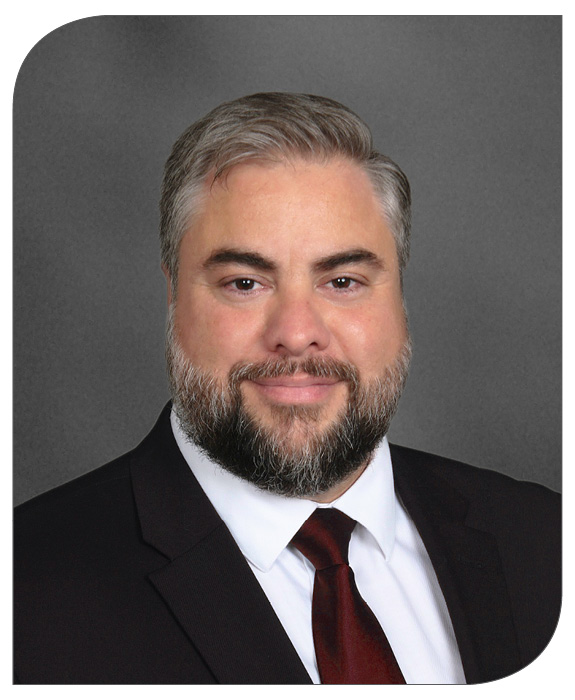 The retail sector is also seeing tremendous rent growth and declining vacancies. Average asking rents rose year-over-year from $29.48 per square foot NNN to $32.71. The vacancy rate declined from 4.6% to 3.7% during that span.
"Tourism is rebounding, and the retail sector is cashing in," Lee & Associates South Florida Principal Victor Pastor said. "Investors from all over the country are attracted to South Florida, as retail property sales are up and demand for assets at or near an all-time high. About two-thirds of first-quarter buyers were from out of state."
South Florida Market Reports
INDUSTRIAL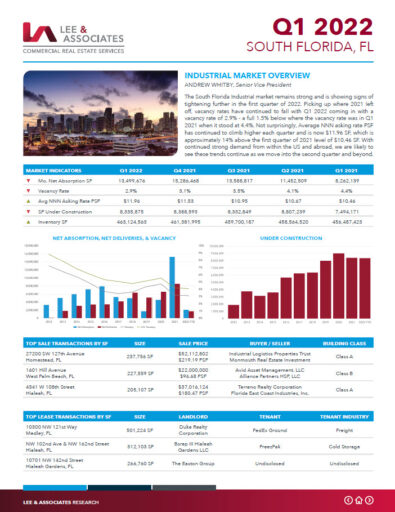 MULTIFAMILY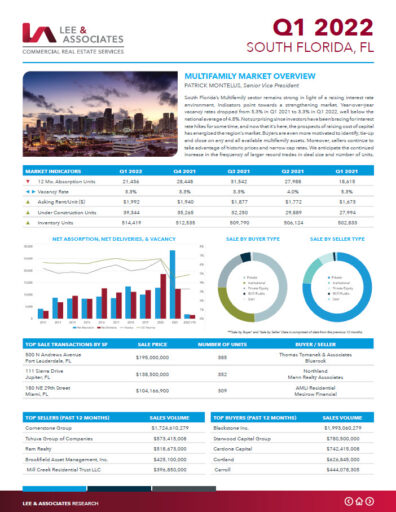 OFFICE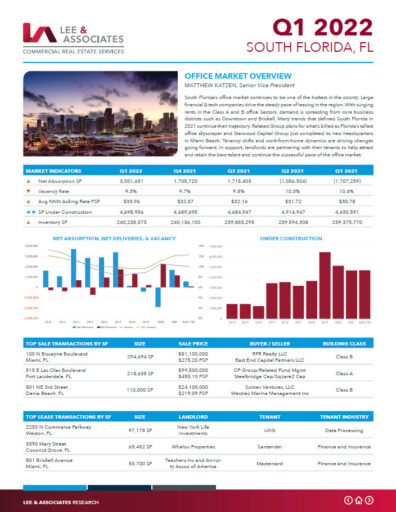 RETAIL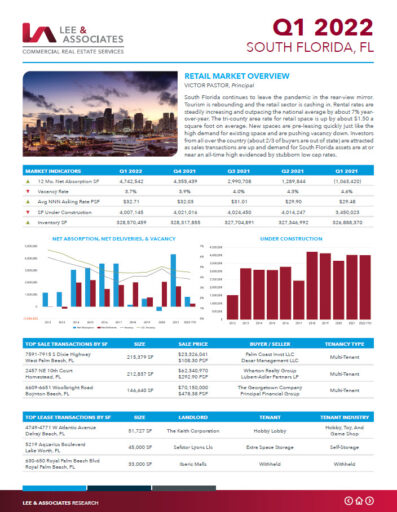 About Lee & Associates | South Florida
Lee & Associates | South Florida is a fully vertical commercial real estate brokerage firm focused on industrial, office, retail, multifamily, investment and land sectors. Our dedicated team of professionals is led by Matthew Rotolante, CCIM, SIOR a 4th generation South Florida native in a family that has owned and operated commercial property here since 1928. Lee & Associates is the largest agent owned brokerage in the nation with Senior Agent's ability to earn profit share resulting in the highest splits while still receiving full resources, support and leads from our national network. Our collaborative and cheerful culture allows for open communications throughout the company, fostering the sharing of information and best practices to better enable client decision making.  The Lee & Associates' robust national network that sold and leased nearly $32.4 Billion in 2021 offers clients a cross-market platform of expertise and deal opportunities across all asset specialties and representation roles. For the latest news from Lee & Associates South Florida, visit leesouthflorida.com or follow us on Facebook, LinkedIn, Twitter and Instagram, our company local news.
Lee & Associates is a commercial real estate brokerage sales, leasing and management firm. Established in 1979, Lee & Associates has grown its service platform to include over 75 offices in the United States and Canada. Lee & Associates is the largest agent owned commercial real estate brokerage where agents get the greatest return for their efforts and hence are more committed and better enabled to provide superior results for their customers.  For the latest news from Lee & Associates, visit lee-associates.com or follow us on Facebook, LinkedIn, Twitter and Link, our company blog.