Miami Today Speaks with Lee & Associates South Florida Industrial Team on E-Commerce in Doral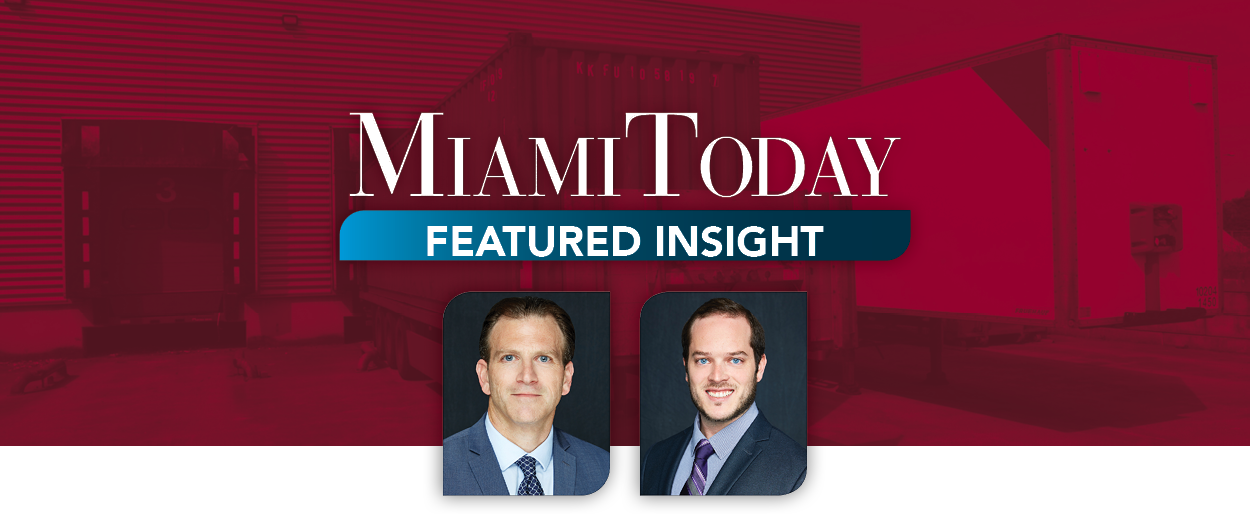 E-COMMERCE DRIVES DORAL COMMERCIAL MARKET THROUGH THE ROOF.
Miami Today discusses the impact of E-Commerce in Doral with Lee & Associates South Florida's Industrial Specialists, Conner Milford & William Domsky.
July 28, 2022
By Gabriela Enamorado
Doral's commercial real estate business is booming with the help of e-commerce. Since the pandemic began, Doral's commercial real estate demand has been increasing. The sales have never been busier due to online ordering.
Commercial real estate in the Doral area has been surging throughout the past two years. Doral is known for its proximity to Miami International Airport and PortMiami and as the epicenter of international trade and commerce. The pandemic thus was seen as a huge positive for Doral's real estate trends.
"The last two years of the pandemic there was a surge of online ordering," said George Pino, president of State Street Realty in Doral. "Since we were unable to leave our house, the only way to buy the necessary goods was to buy them online."
This helped warehouse real estate in particular as the more people bought online, the more warehouses had to open to hold all the products being sold.
"So, the fact that there was a surge of online ordering and there was a massive demand of products to order them online, the warehouses were full and in many cases companies in the rural area expanded their business significantly, which means that the demand for warehouse space was significantly outpacing the supply, even until this very minute," said Mr. Pino.
Rental rates for warehouse space have been at a historic high. In more rural areas, rates are anywhere from $17 to $25 per square foot. In the last year, rental rates have risen 60% to 70% from three years ago, according to Mr. Pino. Sales prices for warehouses have also risen, with prices going from $175 to $250 per square foot.
The types of users moving in are critical to the proximity of the airport and the port. There is also an increase of residents comping from the Northeast and Latin America.
"You have to remember that Miami is the gateway to Latin America," said Mr. Pino. "So, any trade going on with Latin American countries, this is the home base for products being imported and exported from Latin America."
Companies continue to see South Florida as one of the best places to do business in and settle their companies.
"So, because of the risk in investing in those markets, many people transplant into the market and look to purchase, even at the high inflated numbers," said William Domsky, principal at Lee & Associates South Florida. "International companies and private investors feel the strength and security of South Florida because we have a great residential aspect and commercial landscape. So, I think that's what continues to drive the market despite the pandemic."
Most users are directly related to e-commerce, with companies such as Amazon moving in as well as companies like Walmart. There is also lots of cargo being dealt within Doral that comes through the airport and PortMiami.
"Pharmaceuticals, flowers, light things that can travel on planes," said Conner Milford, vice president of Lee & Associates South Florida. "Another trend we saw is anything to do with home improvement. Think windows, doors, kitchen appliances, tile. All those companies have seen a lot of tenant demand for more space from them."
Mr. Milford also notes that many companies relocated to Florida from places like California, the Northeast and even Canada because of the less severe lockdown restrictions here throughout the pandemic.