Lee & Associates South Florida Q4 Report: South Florida Industrial Rents Surge, Multifamily Vacancies Creep Up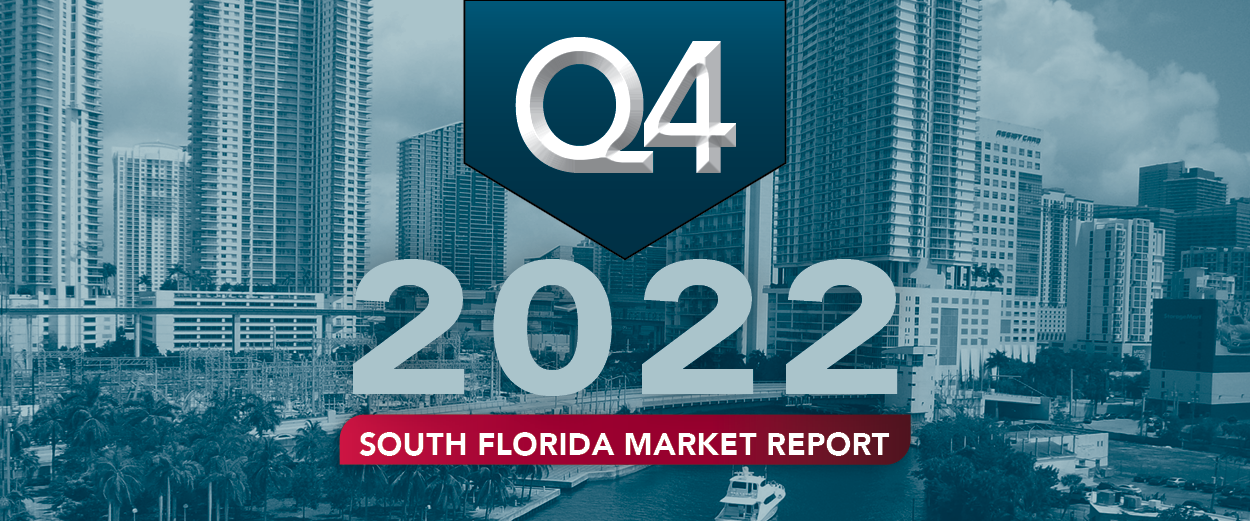 South Florida's Q4 Market Report Shows Industrial Rents Surge, Multifamily Vacancies Creep Up
Local retail and office sectors continue to see rent and occupancy growth year-over-year...
MIAMI, FL (January 23, 2023) – South Florida's industrial market does not appear to be cooling off from its historic run of record-low vacancies and rent growth, according to Lee & Associates South Florida's Q4 2022 market report. The multifamily sector is beginning to see some softening as affordability remains a major issue, however.
Industrial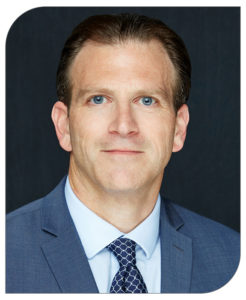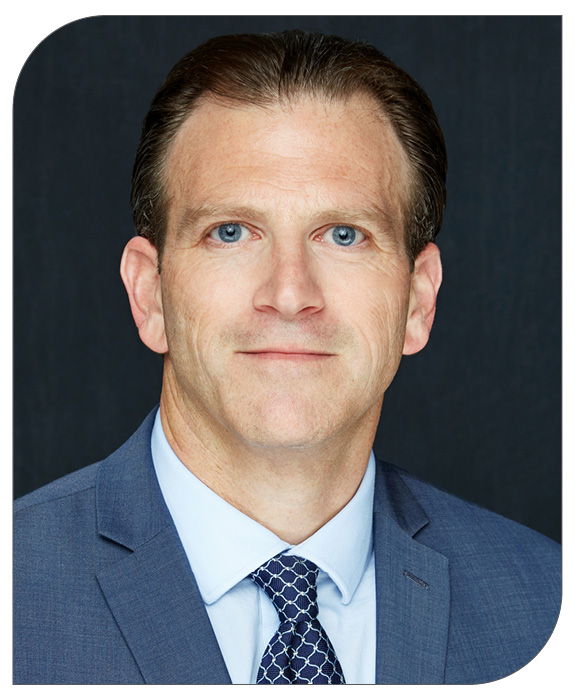 The tri-county area of South Florida closed the fourth quarter of 2022 with a 2.4% industrial vacancy rate, down from 3.0% a year earlier. The average asking rent jumped year-over-year from $11.56 per square foot triple-net (NNN) to $14.13. Investment sales activity was robust in the fourth quarter, with notable high-dollar trades including the $150.35 million sale of a Medley facility, $119.41 million sale of a Hialeah property and the $78 million trade of a Walgreens distribution center in Jupiter.
"South Florida's industrial market holds as one of the most expensive in the country," Lee & Associates South Florida Principal William Domsky said. "Higher interest rates have brought some friction, but industrial buildings and land continue to sell and lease at a high volume with record prices. Vacancy is still at a historic low without much room left to tighten further. Leasing activity remains to stay strong even with higher rental rates. South Florida is supply constrained and with only a slight increase in construction activity, there are no supply-side pressures on vacancy or rent likely to occur in the near term. A potential slowdown in the economy will be the true test. Concerns about inflation and slowing economic growth will persist throughout 2023."
Multifamily
The local multifamily sector saw a notable year-over-year uptick in vacancies in the fourth quarter of 2022, from 3.2% to 4.6%. Asking rents continued to rise, however, from $1,973/month to $2,069/month. The development pipeline expanded from 36,408 units under construction to 51,569 during that span, an increase that could signal more vacancies and reduced asking rents going forward – if the pace of development does not reverse course.
"With construction costs 25% higher than in December 2021, and the cost of lending elevated, market conditions for new developments are less than ideal," Lee & Associates Principal Matthew Jacocks said. "Some projects may not happen, get delayed or not make any sense."
Jacocks noted that sales of existing multifamily assets are slowing down due to a disconnect between buyers and would-be sellers.
Office
South Florida's office sector is still experiencing intense demand from national corporate tenants and expanding local businesses. The region's vacancy rate dropped from 9.2% to 8.7% year-over-year. Average asking rents jumped from $32.89 per square foot NNN in the fourth quarter of 2021 to $36.06.
"In the 4th quarter, vacancy rates continue to trend in the downward direction as tenant needs outpace new inventory, increased positive net absorption, explosive rent growth and shrinking vacancy trends continue," Lee & Associates South Florida Senior Vice President Matthew Katzen said. "Class A space leads the office sector with local business's expanding and national tenants looking to increase their foot print in south Florida. As companies continue their return-to-office plans, it is evident that employees are returning to improved office environments at well-located assets. Boston-based law firm Mintz, Levin, Cohn, Ferris, Glovsky and Popeo is opening a new office in Miami, it announced last Tuesday, the latest in a line of law firms to open offices in South Beach."
Retail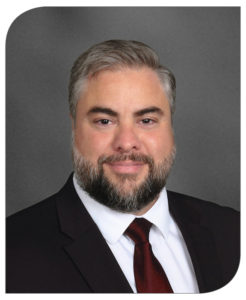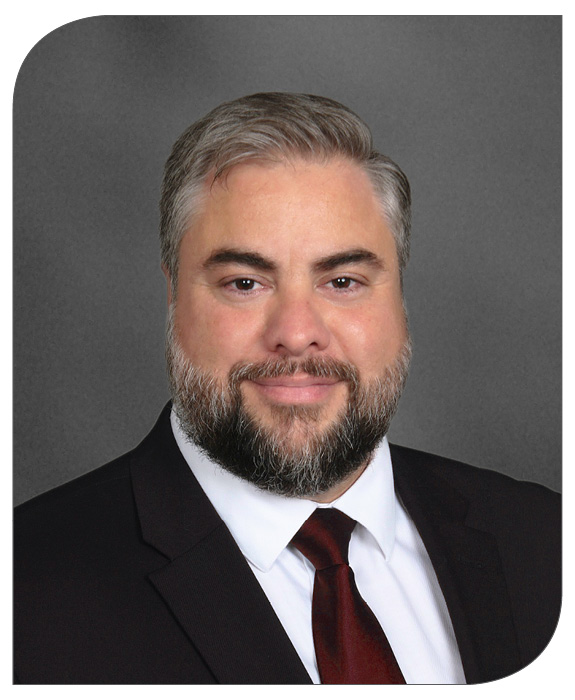 Retail vacancies remained razor-thin at 3.1% in the fourth quarter of 2022, down from 3.7% a year earlier. Average asking rents climbed from $32.01 per square foot NNN to $35.40.
"Despite the rising cost of capital, South Florida Retail Space is in demand and continues to expand with net absorption for the 2022 calendar year at pre-pandemic peak levels albeit showing signs of slowing Q4 over Q3," Lee & Associates South Florida Principal Victor Pastor said. "According to PWC Emerging Trends 2023 Survey, the South Florida tri-county area has strong buy/hold recommendations with Miami at the top of the buy list. Due to rising rents and low vacancy, developers are rolling out an additional fi ve million square feet in hopes of meeting demand of 2021. Higher than average deal volume in 2022 has kept market cap rates the lowest in 5 years at 5.3%."
South Florida Q4 Market Reports
INDUSTRIAL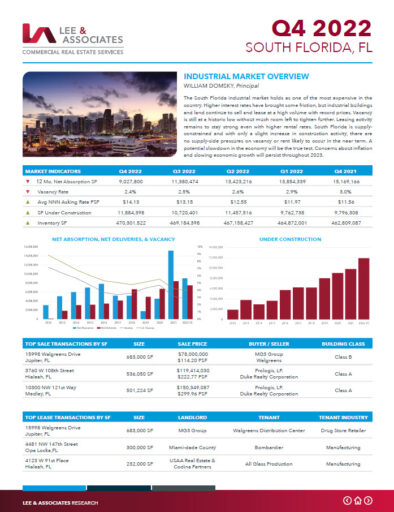 MULTIFAMILY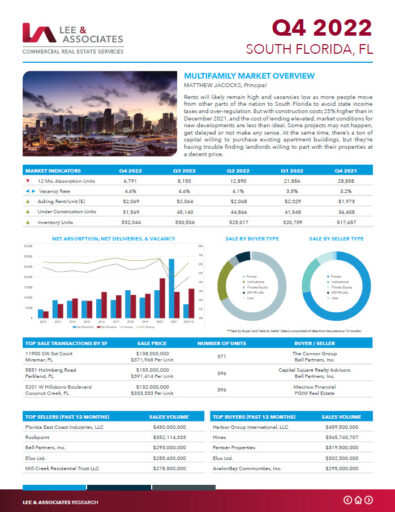 OFFICE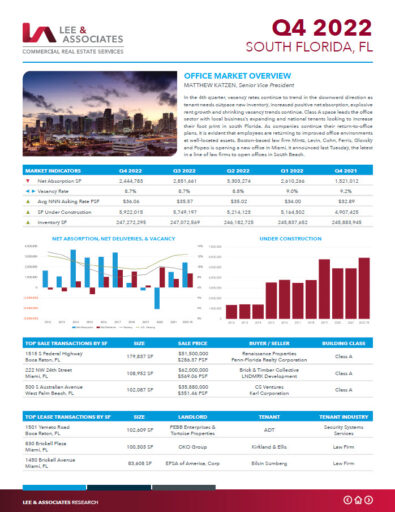 RETAIL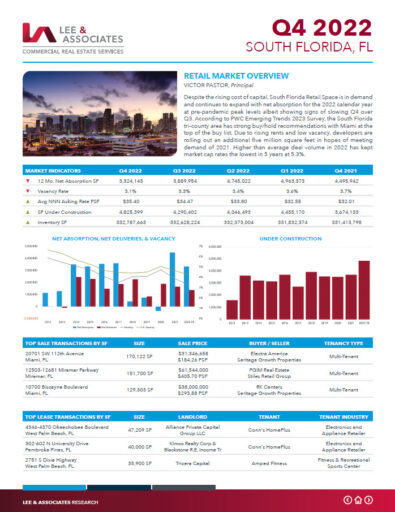 About Lee & Associates | South Florida
Lee & Associates | South Florida is a fully vertical commercial real estate brokerage firm focused on industrial, office, retail, multifamily, investment and land sectors. Our dedicated team of professionals is led by Matthew Rotolante, CCIM, SIOR a 4th generation South Florida native in a family that has owned and operated commercial property here since 1928. Lee & Associates is the largest agent owned brokerage in the nation with Senior Agent's ability to earn profit share resulting in the highest splits while still receiving full resources, support and leads from our national network. Our collaborative and cheerful culture allows for open communications throughout the company, fostering the sharing of information and best practices to better enable client decision making.  The Lee & Associates' robust national network that sold and leased nearly $32.4 Billion in 2021 offers clients a cross-market platform of expertise and deal opportunities across all asset specialties and representation roles. For the latest news from Lee & Associates South Florida, visit leesouthflorida.com or follow us on Facebook, LinkedIn, Twitter and Instagram, our company local news.
Lee & Associates is a commercial real estate brokerage sales, leasing and management firm. Established in 1979, Lee & Associates has grown its service platform to include over 75 offices in the United States and Canada. Lee & Associates is the largest agent owned commercial real estate brokerage where agents get the greatest return for their efforts and hence are more committed and better enabled to provide superior results for their customers.  For the latest news from Lee & Associates, visit lee-associates.com or follow us on Facebook, LinkedIn, Twitter and Link, our company blog.