Lee & Associates South Florida Q2 Market Report: Multifamily Vacancies Creep Up as Rents Stabilize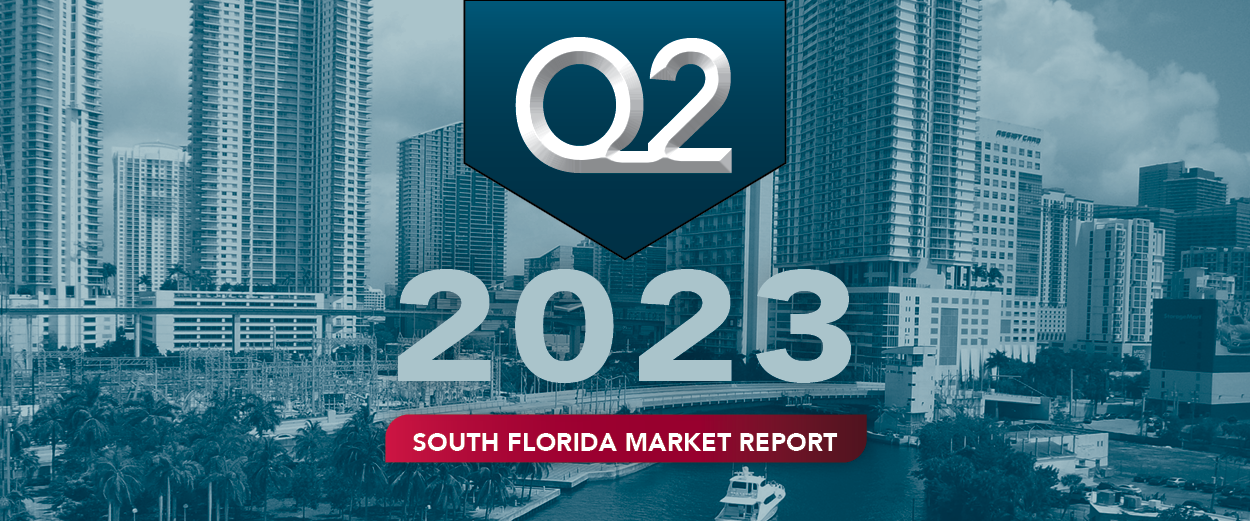 Lee & Associates South Florida Q2 Report: Multifamily Vacancies Creep Up as Rents Stabilize
Local office sector to be tested by anticipated delivery of more than 8.4 million square feet of new construction by 2026...
MIAMI, FL (July 20, 2023) – South Florida's multifamily sector is experiencing an increase in vacancies and flattening of apartment rents, according to Lee & Associates South Florida's Q2 2023 market report. The region's office market is bracing for a wave of new construction that could drive up the tri-county area's vacancy rate in the coming years.
Multifamily
The local multifamily sector saw a notable year-over-year rise in vacancies in the second quarter of 2023, from 4.1% to 5.3%. Asking rents stayed flat from the first quarter to the second quarter, and the $2,109/month average asking rent represented a slight year-over-year increase from $2,087/month in the second quarter of 2022. A construction pipeline of 57,678 at the end of the second quarter could put further pressure on vacancies, as it is up more than 16,000 units year-over-year.
Office
Fueled by double-digit increases in Class A and B rents, the office sector enjoyed a year-over-year jump in average triple-net (NNN) asking rents from $34.99 per square foot to $36.33 in the second quarter. The region's vacancy rate held steady at 8.8%. However, 26 projects under construction or proposed could add another 8.4 million square feet to the market by 2026.
"South Florida continues to see heavy activity in office leasing and construction," Lee & Associates South Florida Senior Vice President Matthew Katzen said. "New-to-market office product falls in the $75 to $150 per square foot range, which is comparable to New York City rates. Set to be complete in 2023, 830 Brickell, for example, has hit an asking rate of over  $125 PSF on the low end and $150 PSF on the high end.  A record 57 companies either relocated or expanded in Miami-Dade in 2022, the Miami-Dade Beacon Council reported, and the state added 318,855 new residents last year, according to the National Association of Realtors."
Retail
Retail vacancies declined from 3.3% in
the second quarter of 2022 to 3.0% in the second quarter of 2023. Average asking rents jumped year-over-year from $33.86 per square foot NNN to $36.24.
"The South Florida retail market remains robust, especially compared to national retail trends," Lee & Associates South Florida Principal Todd Cohen said. "New construction projects have delivered nearly 2 million SF of new space year over year, and an additional 3.5 million SF are currently under construction.  Absorption has been slowing slightly, but vacancy rates have stabilized at an incredibly low average of 3% over the entire tri-county region. Service industries continue to thrive with the top two leases in Q2 by size being leased by Fitness Centers, including 53,024 SF taken by Crunch Fitness in Broward County, and 38,000 SF leased by UFC Gym in Miami's Doral neighborhood. Restaurants, salons and other service-oriented tenants immune to online/internet threats are also leading the way."

"South Florida retail properties are desired by investors all over the world, as is evidenced by continued strong sales momentum despite a challenging capital markets environment."
Industrial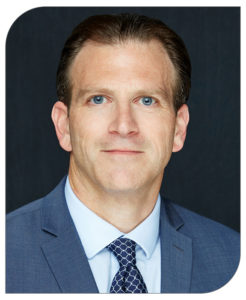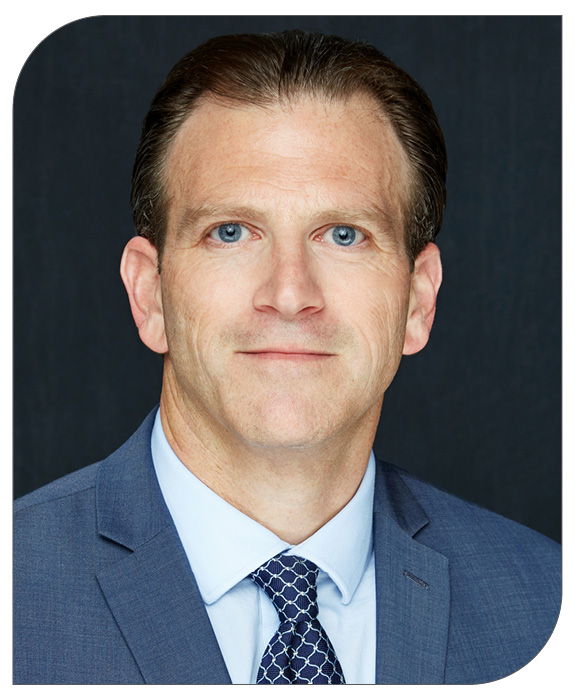 The tri-county area of South Florida closed the second quarter of 2023 with a 2.4% industrial vacancy rate, down from 2.6% a year earlier but slightly higher than the first quarter of 2023. The average asking rent surged year-over-year from $12.63 per square foot triple-net (NNN) to $16.01.
"South Florida remains in a position of strength," Lee & Associates Principal William Domsky said. "Although the vacancy rate has increased by 0.2 percentage points the rental rates have continued to rise, new residential developments and population growth have been fueling the demand. There is more than 12,738,333 SF under construction, but with the scarcity of modern logistics space, it's expected that a majority of the newly developed space will be absorbed upon completion, based on the continued interest of new-to-market companies moving into South Florida.  

"Heavy [industrial] leasing activity took place in the market, but in many cases the higher rental rates and increased operating costs have led to existing tenants relocating to smaller spaces. Sales volume has slowed, but the market continues to experience price appreciate despite rising interest rates and speculation of a slowing economy."
South Florida Q2 Market Reports
INDUSTRIAL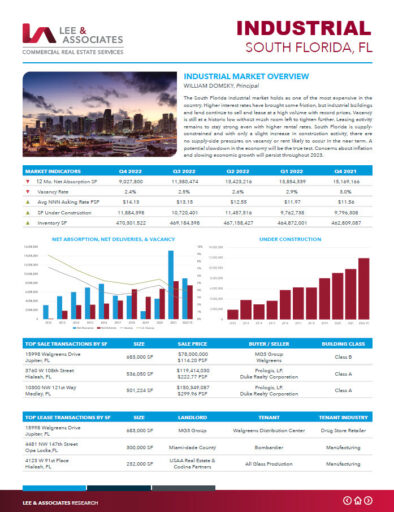 MULTIFAMILY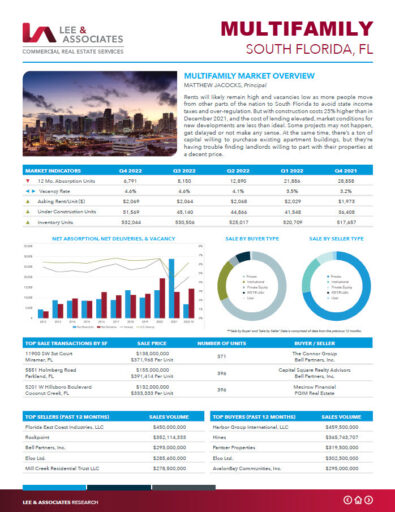 OFFICE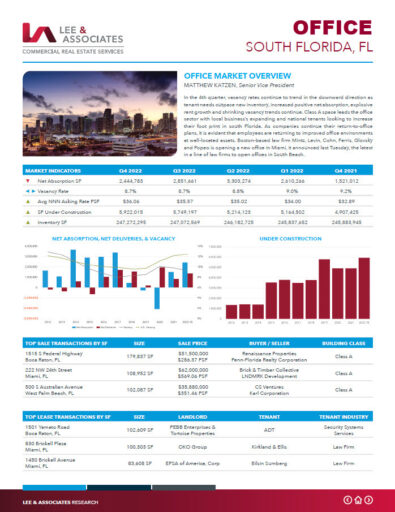 RETAIL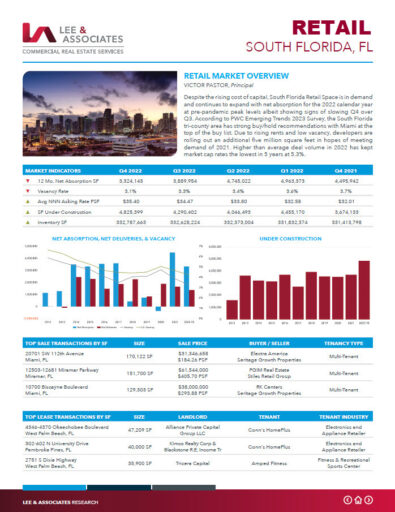 About Lee & Associates | South Florida
Lee & Associates | South Florida is a fully vertical commercial real estate brokerage firm focused on industrial, office, retail, multifamily, investment and land sectors. Our dedicated team of professionals is led by Matthew Rotolante, CCIM, SIOR a 4th generation South Florida native in a family that has owned and operated commercial property here since 1928. Lee & Associates is the largest agent owned brokerage in the nation with Senior Agent's ability to earn profit share resulting in the highest splits while still receiving full resources, support and leads from our national network. Our collaborative and cheerful culture allows for open communications throughout the company, fostering the sharing of information and best practices to better enable client decision making.  The Lee & Associates' robust national network that sold and leased over $32 Billion in 2022 offers clients a cross-market platform of expertise and deal opportunities across all asset specialties and representation roles. For the latest news from Lee & Associates South Florida, visit leesouthflorida.com or follow us on Facebook, LinkedIn, Twitter and Instagram, our company local news.
Lee & Associates is a commercial real estate brokerage sales, leasing and management firm. Established in 1979, Lee & Associates has grown its service platform to include over 75 offices in the United States and Canada. Lee & Associates is the largest agent owned commercial real estate brokerage where agents get the greatest return for their efforts and hence are more committed and better enabled to provide superior results for their customers.  For the latest news from Lee & Associates, visit lee-associates.com or follow us on Facebook, LinkedIn, Twitter and Link, our company blog.