Lee & Associates Twin Cities Services
OFFICE. INDUSTRIAL. COMMERCIAL. TENANT REPRESENTATION. INVESTMENT. DEVELOPMENT.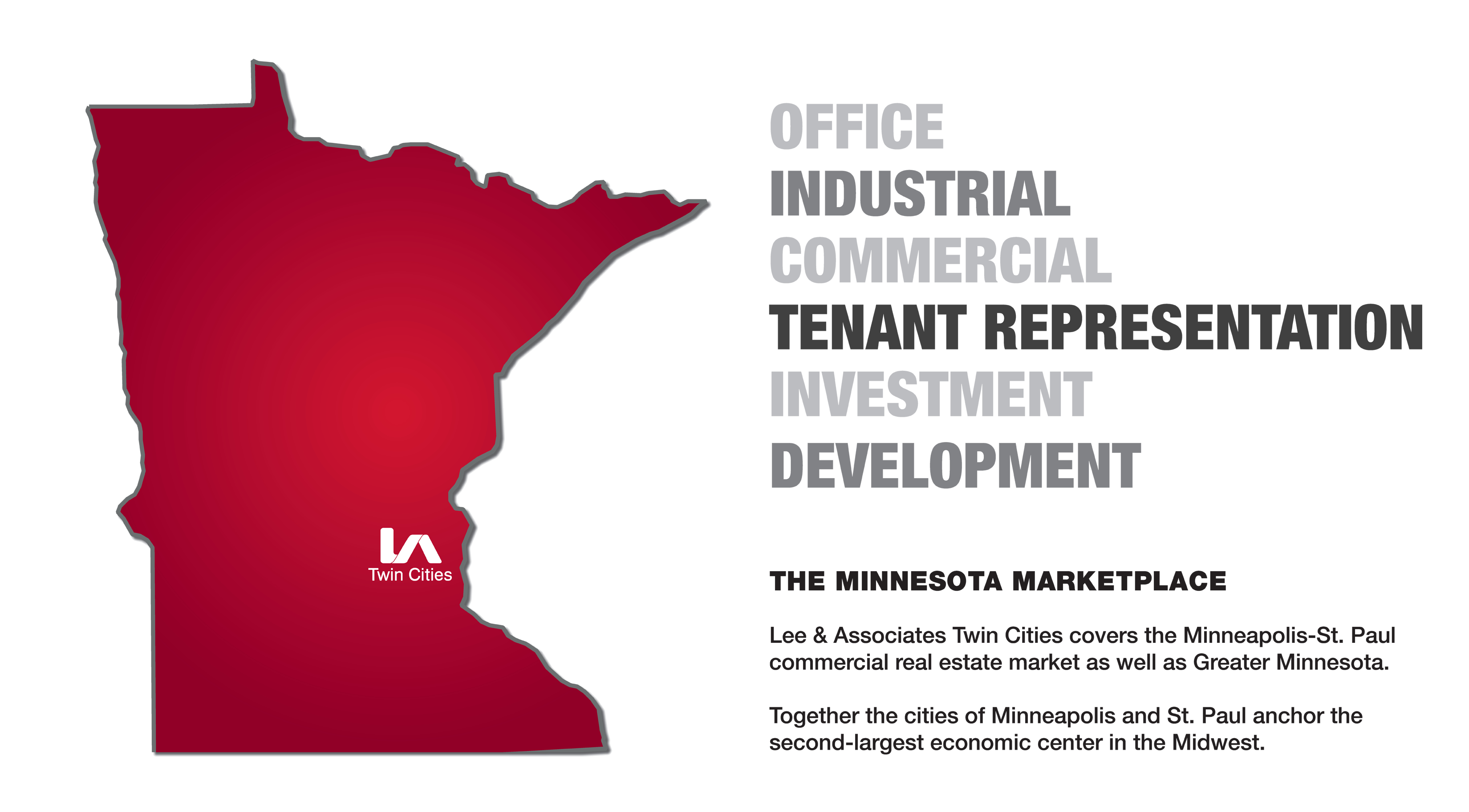 OFFICE:
Lee & Associates offers diversified services geared to the acquisition, leasing, management, and sale of office properties, business parks, mixed-use projects, land for development, and commercial investments. We emphasize relationships rather than transactions as the best path to comprehensive real estate planning. Strategies are developed in consultation with clients, so owners and tenants feel confident that our approach matches their goals.
INDUSTRIAL:
Lee & Associates knows industrial real estate. We help clients large and small navigate the complexities of manufacturing plants, warehousing/distribution facilities, specialized R&D facilities, showrooms, flex space, and high-tech lab campuses. Whether you need help locating, acquiring, selling, leasing, managing or consulting, you'll benefit from our thorough approach. Before offering any recommendations, we learn about your business goals to ensure that our strategies are in sync with your objectives. Then we use our knowledge and experience to support your goals.
BROKERAGE - TENANT REPRESENTATION:
Tenant Representation consultants offer a range of top-tier, comprehensive services geared toward meeting any tenant requirement. The Lee specialists are experts in evaluating your occupancy needs, identifying the best site or facility options, negotiating value-added transactions, analyzing financial arrangements and structuring the transactions to ensure the most favorable results for our clients. We remain your advocates throughout the stages following a renewal, expansion or relocation. Our services do not end with the signing of a lease.
INVESTMENT:
With its long history of top-tier service and its entrepreneurial approach to the ebb and flow of the real estate market, Lee's investment experts are an indispensable part of your team. Our deep understanding of the financial drivers involved in commercial real estate allow us to analyze how property acquisition, ownership and disposition can accelerate the success of your financial portfolio. We take our knowledge of current issues such as troubled loans, REOs, distressed properties, and foreclosures to give you a competitive edge and achieve your financial goals.