Growing Up In the Industry: Key Components to Success in Commercial Real Estate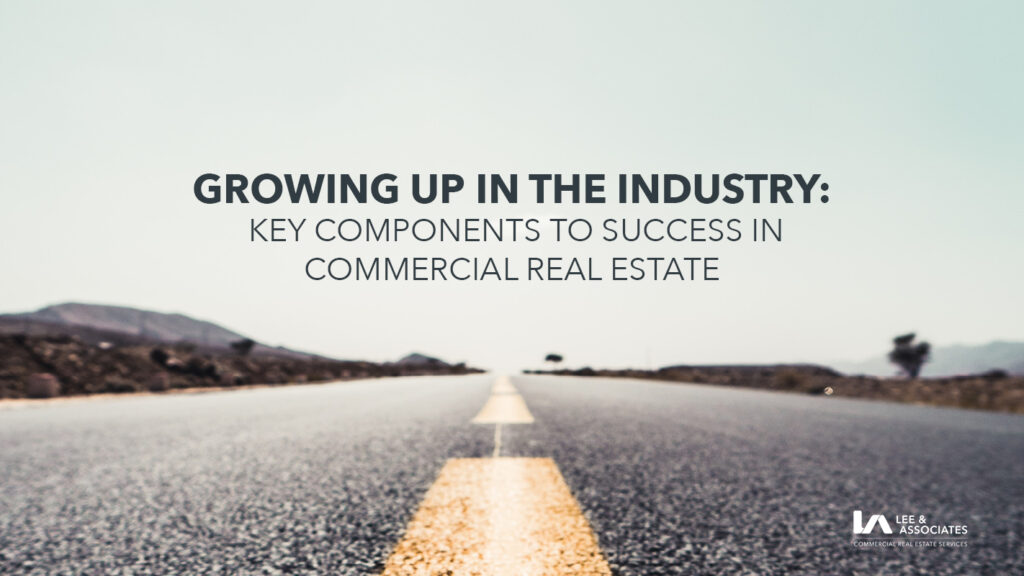 John Erck, Director at Lee & Associates – Houston
The commercial real estate industry is competitive and takes a certain work ethic and level of determination to succeed. I've had the unique experience of seeing this from a young age and have learned a few key components along the way that help brokers see success as they work to build a career in commercial real estate.
Put in the work
Growing up, I always had family members working in careers related to commercial real estate – from brokerage to development and more, so my interest in the industry started at a young age. My dad, Kevin Erck, has been the biggest influence in my life and the main reason I wanted to pursue a career in commercial real estate. He was, and still is to this day, an industrial real estate broker, and I grew up witnessing firsthand his example and the grit it takes to be successful in the business.
I've always loved the entrepreneurial nature of the industry as well; every day brings new challenges and opportunities and we get to interact and work with a wide variety of people and businesses. Over the past four years, I've learned that if you continue to dig in and expand your knowledge, you find opportunities to create wealth and grow it in the long term.
Not only does the earning potential position you to provide for your family, but it also gives you an opportunity to make an even bigger impact and give back financially to your community and causes you care about. At the end of the day, if you're willing to put in the work, the rewards are far-reaching and span not only your work life, but your personal life as well.
"Be a sponge"
When I started my career at Lee & Associates in 2016, I was advised to surround myself with veterans in the business. A mentor suggested that I "be a sponge" – learn as much as I can from seasoned industry professionals, stay focused and grind out my work. I believe this is a huge part of what helped me transition quickly from an associate to a director within our firm.
Early on, I was fortunate to have the opportunity to team up with two of our youngest and newest partners at the time, Reed Vestal and Taylor Schmidt. Working alongside them, I witnessed their work ethic, energy and vision and learned some crucial skills along the way.
One key lesson was the importance of time management. In a fast-paced industry that doesn't necessarily have a set, 9-5pm timeframe in an office, finding ways to prioritize your days and weeks can make all the difference in the way you work. Finding an efficient system will help you better cater to your clients, secure deals and maximize your efforts.
I also learned how critical best practices are to gaining momentum when you first start out. If you take the time to listen, observe and learn from those around you who are successful, you'll gain the knowledge needed to excel.
Have a team mentality
Instead of taking on a project on your own, involving others in your office for input gives you the power to be creative with deals and truly best serve the client.
Having the support and perspective of multiple team members brings a certain energy and expertise to the table. You're better when you work with others, and it only helps you grow individually and as a team.
Build bridges – and don't burn them
You can ask almost any broker in the business and they will tell you how tight-knit the brokerage community is. Everyone has a reputation to uphold and you are only as good as your word. One of the quotes that's always stuck with me is "it takes twice as long to build bridges you've burned." I've learned that best from my dad, seeing him build and foster relationships over the years. He, along with many others in the brokerage community, are quick to give advice and lend a hand – they're the kind of people that are truly "salt of the earth."
I feel fortunate that my upbringing influenced my career path. From learning the foundations of the industry from my dad, to experiencing it firsthand at Lee & Associates – Houston, hard work, discipline, respect for your team and building strong relationships will always be the pillars of success in the commercial real estate industry.
Lee & Associates – Houston is a fully-integrated, commercial real estate company. Our business-minded brokers specialize in office, industrial and land real estate investments. As the fastest-growing, broker-owned firm in the nation, we are uniquely qualified to support our clients' needs in the local, national and international markets.
Author information:
John Erck is a director at Lee & Associates – Houston and specializes in assisting owners/users of land and industrial properties, specifically with leases, acquisitions, dispositions, build-to-suits and design build projects. His primary objective is to use market knowledge and cost-reduction strategies to bring clients maximum value and a competitive advantage.
.