Triangle real estate firm expands with seven-member team
Triangle real estate firm expands with seven-member team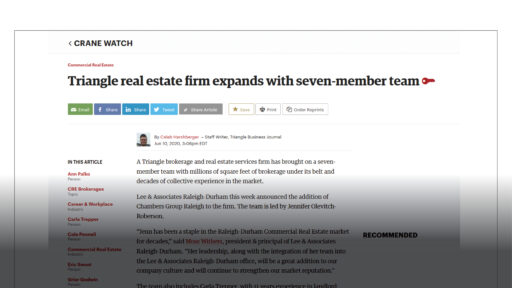 By Caleb Harshberger – Staff Writer, Triangle Business Journal
June 10, 2020, 3:06pm EDT
A Triangle brokerage and real estate services firm has brought on a seven-member team with millions of square feet of brokerage under its belt and decades of collective experience in the market.
Lee & Associates Raleigh-Durham this week announced the addition of Chambers Group Raleigh to the firm. The team is led by Jennifer Olevitch-Roberson.
"Jenn has been a staple in the Raleigh-Durham Commercial Real Estate market for decades," said Moss Withers, president & principal of Lee & Associates Raleigh-Durham. "Her leadership, along with the integration of her team into the Lee & Associates Raleigh-Durham office, will be a great addition to our company culture and will continue to strengthen our market reputation."
The team also includes Carla Trepper, with 11 years experience in landlord representation, and brokers Cole Pennell, Eric Sweet, Grier Godwin, Trevor Hudson and marketing associate Ann Palko. The group brings more than 2.5 million square feet of landlord representation transactions as well as existing tenant representation relationships.
"We are thrilled to be joining Lee & Associates," said Olevitch-Roberson. "This opportunity provides us with the resources and recognition of a national organization, while still focusing on the local Triangle market we are connected to. Moss, Karah and their entire team have built something special at Lee & Associates, and we can't wait to be a part of it."
Among her deals over the years, Olevitch-Roberson led the redevelopment and repositioning of Waverly Place, a 200,000-square-foot retail destination in Cary.
The expansion is the latest for Lee & Associates Raleigh-Durham. Withers launched the firm in 2018.
Lee & Associates is a broker-owned commercial real estate brokerage, management and appraisal services firm with offices across the United States and Canada.