Raleigh developer preps for work on office, retail project in Holly Springs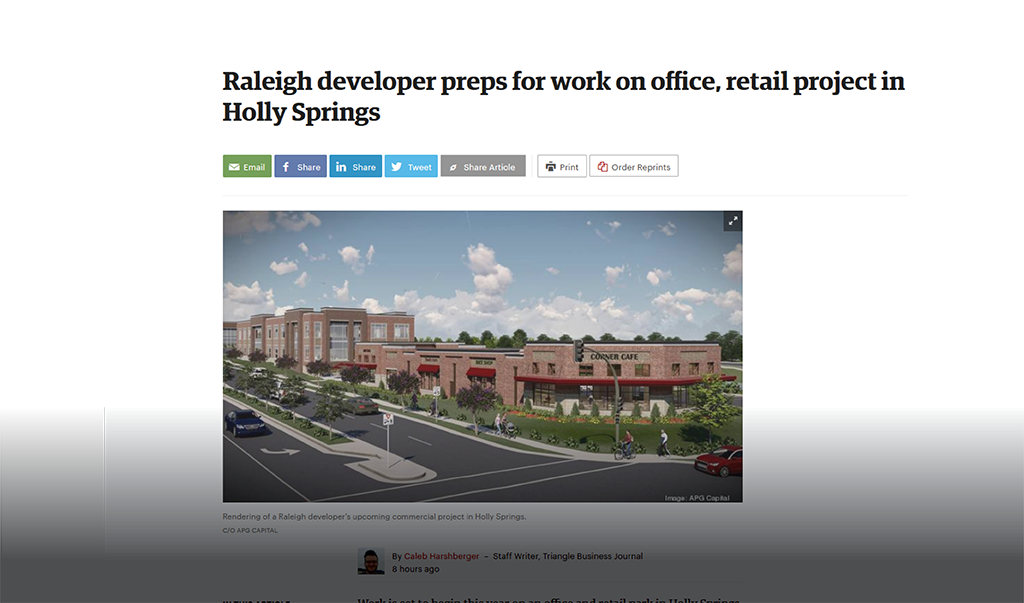 By Caleb Harshberger – Staff Writer, Triangle Business Journal
Mar 2, 2021
Work is set to begin this year on an office and retail park in Holly Springs with plans calling for a collection of commercial buildings in the booming Wake County town.
This month, Raleigh-based APG Capital announced it's gearing up to start work on The Plaza at Rhamkatte Village after receiving approval from the town. The project features 58,000 square feet of office and retail space across two 2-story buildings and one single-story building.
The project is situated on a little over 4 acres at 601 Holly Springs Road, next to Holly Springs Elementary School and across the street from a Lowes Foods-anchored retail plaza.
"As Holly Springs continues to experience growth, the need for pedestrian-friendly, mixed-use projects rises," said Wayne Hightower, president of APG Capital. "APG Capital and Lee & Associates are pleased to provide this new suburban office and retail location for businesses and residents in Holly Springs."
APG Capital is the developer on the project.
Lee & Associates will handle leasing, with Moss Withers and Karah Jennings McConnell leading office leasing and Jenn Olevitch-Roberson and Carla Trepper handling retail leasing.
"Holly Springs has become a proven commercial market. It's the leadership within the town and the experience and forward thinking of companies like APG Capital that will continue to provide incredible opportunities for new business throughout the community," Withers said in a prepared statement. "We are excited to partner with such a reputable group on this Class A development."