Strong housing demand fuels $18 million sale of Raleigh area property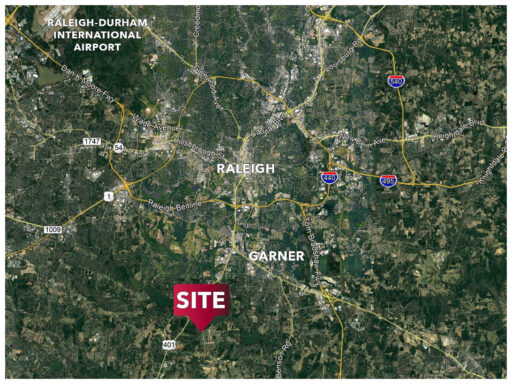 RALEIGH, N.C., June 24, 2021 – Lee & Associates Raleigh-Durham, the regional office of the national commercial real estate firm Lee & Associates, announced today that its Land Team has completed the $18 million sale of a 290.27-acre, nine-parcel land assemblage in Garner.
The sellers were represented by Lee & Associates Raleigh-Durham, led by Vice President Russell Stewart, J.D.. CEO & Principal Moss Withers, SIOR, MBA also supported the sale.
"I have really enjoyed working with Russell and Moss at Lee & Associates. These guys are very easy to work with and have been nothing but professional from start to finish. They kept me informed and up to date throughout the entire process," said Scott Hoch, one of the sellers. "They have represented me on multiple transactions, and they have delivered each and every time."
The land is situated on US Highway 401 near Ten-Ten Road and the future I-540 connection in Garner, one of Wake County's most rapidly growing suburbs. The site is nine miles south of Downtown Raleigh and provides a seamless connection to I-40.
The Town of Garner Board of Alderman approved in September 2020 a request by RST Development, LLC to rezone the site to a planned residential development. The Board approved plans for 365 single-family homes, 455 townhomes, and 500 apartment units, for a total of 1,320 new homes.
Demand for housing continues to drive land sales in Wake County. The Town of Garner reported in May 2021 that it has more than 4,500 single family lots, 2,100 townhomes, and 2,100 apartment units either approved or under construction.
"We are thrilled to bring highly amenitized housing options to this prime Garner location," said Scott Copeland, principal of RST Development. "The communities will offer trails, swimming pools, fitness centers, membership opportunities and ample spaces to gather."
Lee & Associates Raleigh-Durham is a full-service commercial real estate firm and delivers world class service to an array of regional, national, and international clients – from small businesses and local investors to major corporate users and institutional investors.
For more news, research, and resources, please visit our newsroom.
ABOUT LEE & ASSOCIATES
Lee & Associates Raleigh-Durham is a commercial real estate brokerage, management, and appraisal services firm. Established in 2018, Lee & Associates Raleigh-Durham has grown its service platform to include reach in the Triangle, Triad, and Coastal areas of North Carolina. With 28 brokers and a Top 5 Lee & Associates Property Management team, we combine the latest technology, resources, and market intelligence with experience, expertise, and commitment to superior service to optimize client results. For the latest news from Lee & Associates, visit leeraleigh.com or follow us on Facebook, LinkedIn, Twitter, Instagram, and Link, our company blog.
CONTACT
Alyssa Byrd, Director of Marketing and Communications
Lee & Associates Raleigh-Durham
abyrd@lee-associates.com
919-572-2512