Texas developer buys defunct Chapel Hill hotel for major redevelopment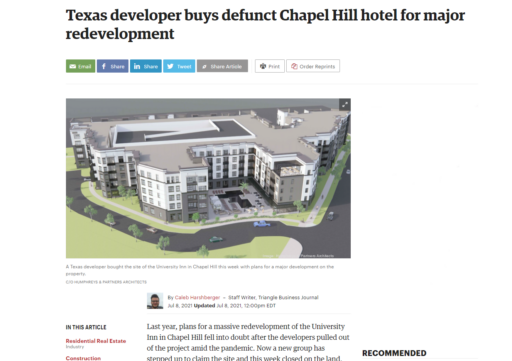 By Caleb Harshberger – Staff Writer, Triangle Business Journal
July 8, 2021
Last year, plans for a massive redevelopment of the University Inn in Chapel Hill fell into doubt after the developers pulled out of the project amid the pandemic. Now a new group has stepped up to claim the site and this week closed on the land.
Houston developer The Dinerstein Companies is making its entrance into North Carolina with the $10.6 million acquisition of the University Hill inn, with plans for a massive mixed-use development on the site.
The property is situated on 3.9 acres at 1301 Fordham Blvd.
Built in 1967, the property currently features a defunct hotel that is falling into disrepair. The hotel served guests for decades before abruptly closing in 2019 after a lengthy legal battle between the landowner and the operators of the inn.
Russell Stewart, Karah McConnell and Moss Withers of Lee & Associates represented the sellers.