2021 Q3 North America Market Report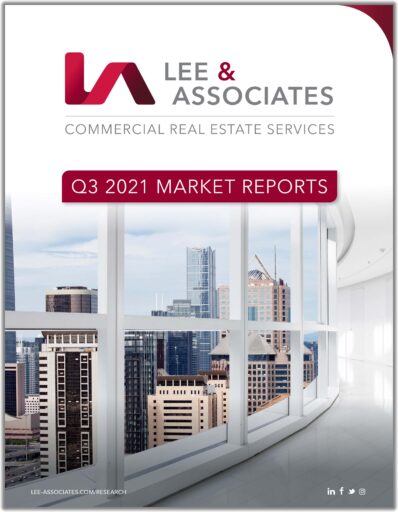 INDUSTRIAL OVERVIEW: Q3 POSTS MORE RECORD DEMAND
Pandemic-fueled consumer spending drove up third-quarter demand for warehouse and distribution facilities that eclipsed previous records. And despite a nationwide surge in new construction, some metros can barely accommodate the pace of tenant expansion. Additionally, year-over-year rent growth is at a record 6.7% for the industrial property sector as a whole and 7.9% for logistics facilities. The national vacancy rate fell at the fastest pace ever in Q3, settling at a record low 4.6%. Net absorption in the third quarter totaled 157.9 million SF, a 17.2% increase over Q2's record-setting net growth of 134.7 million SF. Net absorption through the first three quarters of 2021 totaled 366.5 million SF. The previous record was 278.7 million SF set in 2016. It's also notable that net absorption already has exceeded the record 342.9 million SF of new deliveries expected this year.
OFFICE OVERVIEW: POSITIVE DEMAND RETURNS
The nation's office market posted positive net absorption in the third quarter. It was the first quarter of growth since the pandemic hit. The tenant expansion came despite spiking Covid Delta infections that began in early July, renewing employer caution over office re-opening plans.
Net absorption totaled 11,792,287 SF in the third quarter. But over the previous 18 months negative absorption totaled 131 million SF, which accounts for 1.6% of the 8.2-billion-SF inventory. It also is equal to two years of growth in a strong pre-Covid economy, during which the five-year absorption average was 65.5 million SF per year. Construction starts since the lockdown are less than 15 million SF. But over the last two years 92 million SF emerged from the construction pipeline. The new space represents 1.2% of total inventory.
RETAIL OVERVIEW: RETAIL DEMAND STAGES A COMEBACK
Retail real estate is staging a notable comeback in 2021 bolstered by enormous government subsidies to consumers who largely are getting vaccinated. While there was a sharp increase in e-commerce in 2020, this year has been brick-and-mortar's turn. Merchants expanded their real estate footprints again in the third quarter by 28.6 million SF. This follows 20.2 million SF of positive net absorption in the second quarter and 4.5 million SF in Q1, and brings overall year-to-date growth to 53.3 million SF, 52% more than for all of 2019.
MULTIFAMILY OVERVIEW: GROWTH PRESSURES HIT RENTERS
Apartment demand is in overdrive and rents are soaring. Third-quarter absorption totaled 203,994 units, bringing the year-to-date total to 621,680. That's a 67% increase over last year's absorption record of 372,904 apartments. The vacancy rate for 17.8 million apartments is at an all-time low 4.6%.
At the end of the third quarter, monthly rents were up an average 10.4% this year to $1,524 per unit or $1.71 per SF. Rents were highest in San Francisco, averaging $2,964, up 10% this year. Of the top 80 U.S. metros, 17 posted annual growth rates over 15%. Austin, Jacksonville, Las Vegas, Orlando, Phoenix, Raleigh and Tampa averaged asking rent hikes of more than 20%.