Q4 2022 North America Market Report Released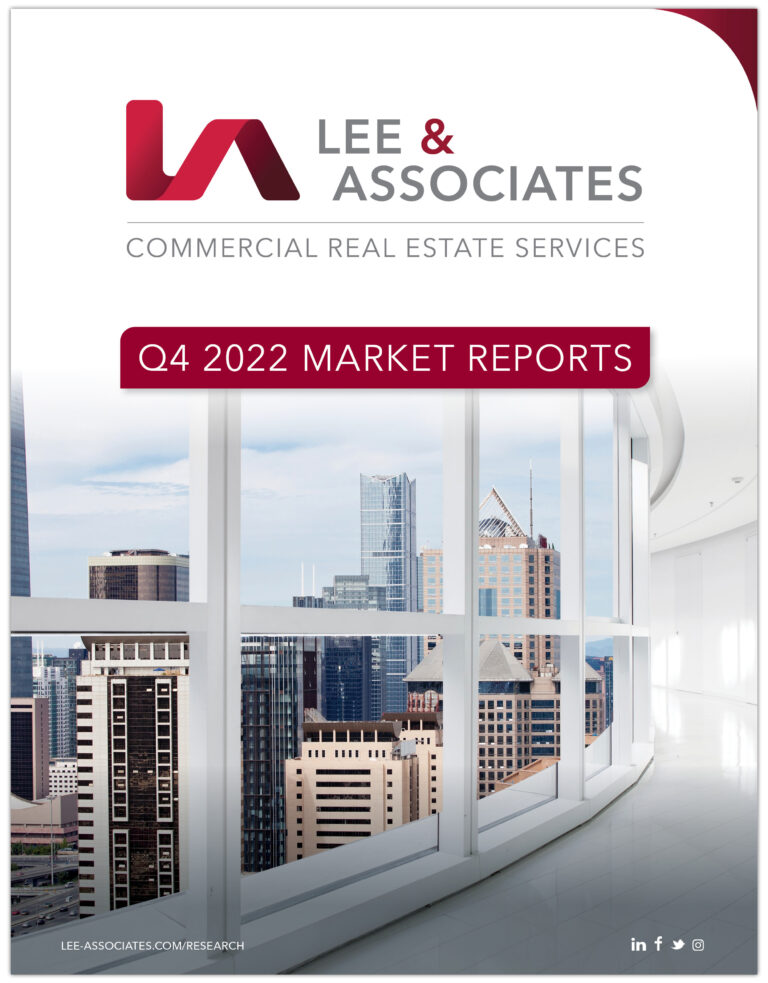 INDUSTRIAL OVERVIEW
RECORD RENT GROWTH, LOW SUPPLY
Relentless demand continued for warehouse-and-distribution space across North America in 2022. The year ended with a surge in fourth-quarter absorption along with more double-digit annual rent growth. While growth has slowed from the fever pitch of 2021, there have been no signs of significant deterioration in the fundamentals driving demand for industrial space. Inflation-adjusted retail goods sales and truck tonnage are at high levels, and containerized imports at U.S. seaports are posting seasonally-adjusted all-time highs. At 10.6%, rent growth in the United States remains near the record highs hit in 2021 as the pace of recent quarterly gains has been moderating. In Canada, strong demand and low vacancy produced a 2022 average rent growth of nearly 17% nationwide with increases of 20% in Montreal and 15% in Greater Toronto. READ MORE>
OFFICE OVERVIEW
HYBRID WORK, SLOWER GROWTH FORCES CUTS
Office demand in the United States ended the year with its largest quarterly deficit since Covid vaccines became available in early 2021. Hybrid work schedules have become the norm and companies are shedding space in anticipation of slowing growth and possible recession. Negative net absorption totaled 13.6 million SF in Q4, bringing the total for the year to negative 18.6 million SF. In the nearly three years since the lockdown, the slide has totaled 131.7 million SF, representing 1.6% of inventory and more than three average years of growth. Nearly 60 million SF of new supply is slated for delivery at the end of the first quarter. READ MORE>
RETAIL OVERVIEW
REBOUND CONTINUES, MOST GROWTH IN YEARS
Retail real estate continued its rebound with another healthy year in 2022. In the United States, the 20.7 million SF of Q4 net absorption brought the total for the year to 74.8 million SF. It was the most demand since 2017 and exceeded new supply by 30 million SF as the overall vacancy rate ticked down to 4.2%, the lowest in 15 years.
Canada's vacancy rate held steady at 2% at the end of 2022, the lowest since 2014. With operating fundamentals improving, investment activity for retail real estate has also accelerated over the last several quarters while the 12-month trend in transaction volumes remains near the highest on record. READ MORE>
MULTIFAMILY OVERVIEW
INFLATION COOLS U.S. DEMAND
Overall tenant demand in the United States continued to weaken as the pandemic-fueled apartment market and its sky-high rent growth returned to earth in 2022.
Net absorption totaled 169,0659 units in 2022, down from the outsized 697,041 units absorbed in the apartment boom of 2021, when a near-record 11 million job openings drove up wages and consumers spent savings accumulated in the lockdown. There also was pent-up demand from first-time renters, and well-paid workers throughout the North and Midwest decamped to toil remotely from the Sun Belt. READ MORE>