IXL Learning expands Morrisville office to support growth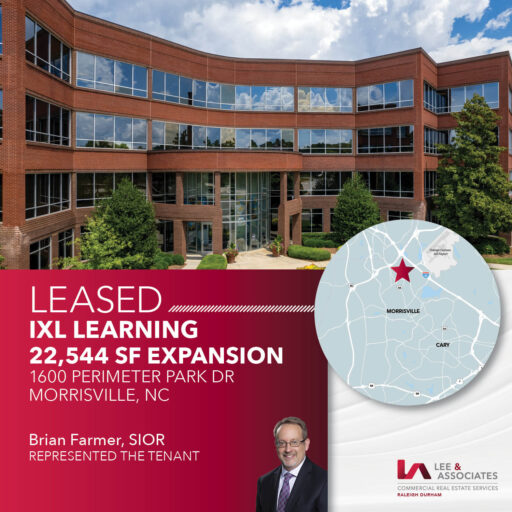 By Kayli Thompson
Staff Writer, Triangle Business Journal
Feb 9, 2023
An e-learning company with regional headquarters in Morrisville is expanding its local office space to accommodate growth.
IXL Learning of California has its East Coast headquarters at Perimeter Park in Morrisville. The company has added 22,544 square feet of space on the first floor at 1600 Perimeter Park Drive, bringing IXL's total square footage to 67,780 on the first, third and fourth floors.
Company officials said the additional space will help with the 41 percent increase in local employees since the beginning of 2022 and allow for the company to hire more employees in the coming years. The current headcount for IXL at Perimeter Park is 246.
IXL owns such platforms as Rosetta Stone, the language learning software.
The company is aiming to be moved into the expanded space by fall 2023. The company didn't release details on what types of improvements would be done to the office space.
"We are excited to expand IXL Learning's regional headquarters in Perimeter Park once again. The additional space will accommodate the pace of our company's growth, and will serve as a convenient location for people to closely collaborate and do their finest work," CEO Paul Mishkin said in a statement. "We look forward to becoming a bigger part of the Research Triangle community where we will continue building world-class products and serve our customers for years to come."