Lee & Associates – Houston Brokers Receive CCIM Designation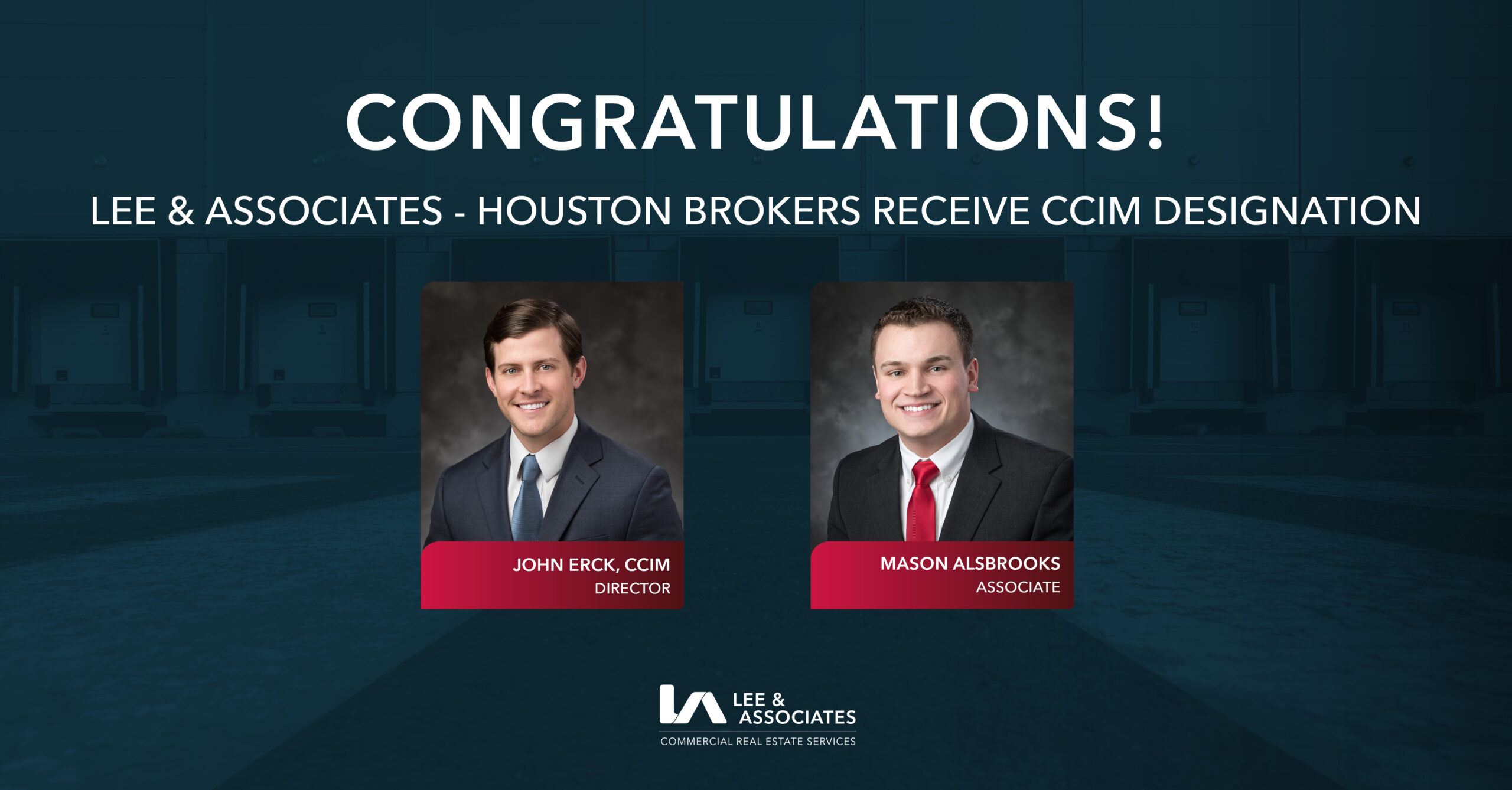 HOUSTON (DECEMBER 9, 2020) –  Lee & Associates – Houston, a nationwide leader in commercial real estate services, is proud to announce John Erck and Mason Alsbrooks earned their Certified Commercial Investment Member (CCIM) designation by passing the CCIM Institute's comprehensive examination, the capstone element in the designation process. The two join fewer than 10% of all allied real estate professionals world-wide to hold this designation, a reflection of the why it is one of the most coveted in the industry.
"These new CCIM designees are the personification of perseverance, discipline, and drive," says Eddie D. Blanton, CCIM, 2020 global president of CCIM Institute. "In spite of the many curveballs thrown their way, they completed their path to the pin and earned the coveted CCIM designation. That designation and access to the institute's global CCIM community will go a long way toward ensuring their success in 2021 and for many years to come."
Earning the CCIM designation begins with the candidates completing a 160-hour educational component with topics including interest-based negotiation, financial analysis, market analysis, user decision analysis, investment analysis, and ethics in commercial investment real estate. Additionally, candidates must submit a professional portfolio with qualifying activities, transactions, projects, or work products to demonstrate the depth of their commercial real estate experience. The final component in obtaining the destination is proving the mastery of the concepts learned throughout the course by passing a comprehensive exam.
John Erck, a Houston native, joined Lee & Associates – Houston as an Associate in 2016. In 2019, he was promoted to Director and oversees business development and market research. He specializes in assisting owners, users of land and industrial and investment properties with leases, acquisitions, dispositions, build-to-suits and design build projects. Erck holds a Bachelor of Business Administration in Finance with an emphasis in Real Estate from Texas A&M University. Alsbrooks joined the Lee & Associates – Houston team in 2017 and specializes in industrial, land and investment brokerage services. He received two degrees from Texas A&M University, earning a Bachelor of Science in Agricultural Economics and Masters of Real Estate.
About Lee & Associates:
Lee & Associates offers an array of real estate services tailored to meet the needs of the company's clients, including commercial real estate brokerage, integrated services, and construction services. Established in 1979, Lee & Associates is now an international firm with offices throughout the United States and Canada. Our professionals regularly collaborate to make sure they are providing their clients with the most advanced, up-to-date market technology and information. For the latest news from Lee & Associates – Houston, visit lee-associates.com/houston or follow us on Facebook, LinkedIn, Twitter and Link, our company blog.