Lee & Associates South Florida Q3 Report: South Florida's Retail Market on Fire, Industrial Vacancies Remain at Historic Lows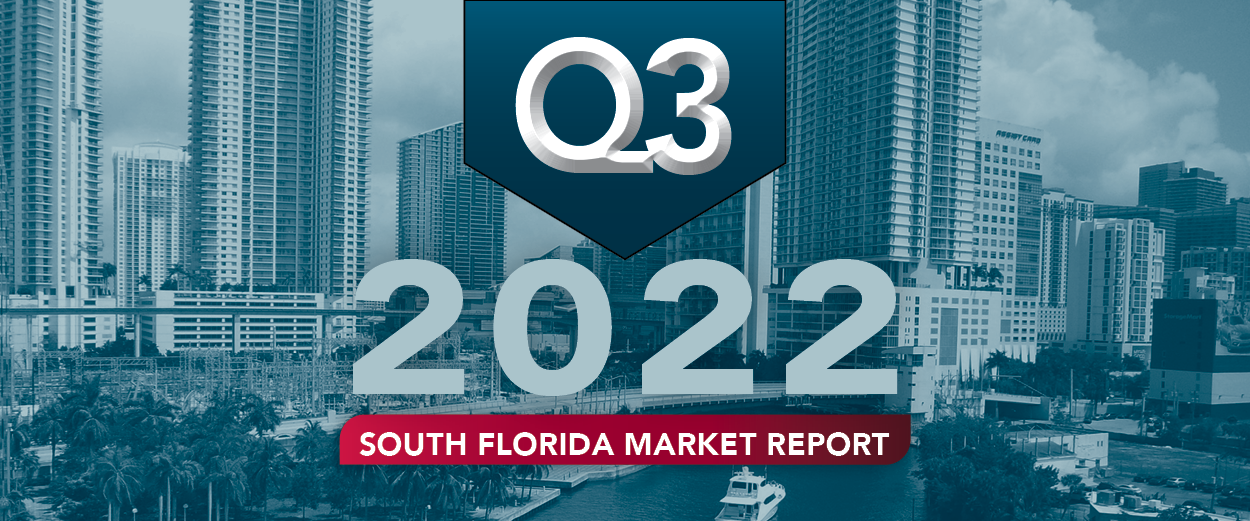 South Florida's Q3 Market Report Reveals Retail Market on Fire, Industrial Vacancies Remain at Historic Lows
Q3 Office rents stay on upward trajectory, while multifamily transactions slow down amid rising interest rates...
MIAMI, FL (October 20, 2022) – Mirroring a national trend for he third quarter, South Florida's retail market is benefitting from sharp vacancy declines and rent increases across the tri-county area, according to the latest Lee & Associates Q3 2022 market report data. The supply constrained local industrial market is still seeing historically low vacancies, but quarterly declines in absorption raise questions about how soon new product will be on the way.
Retail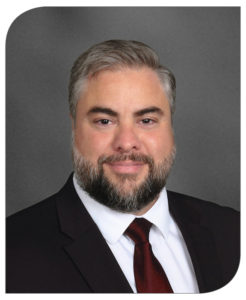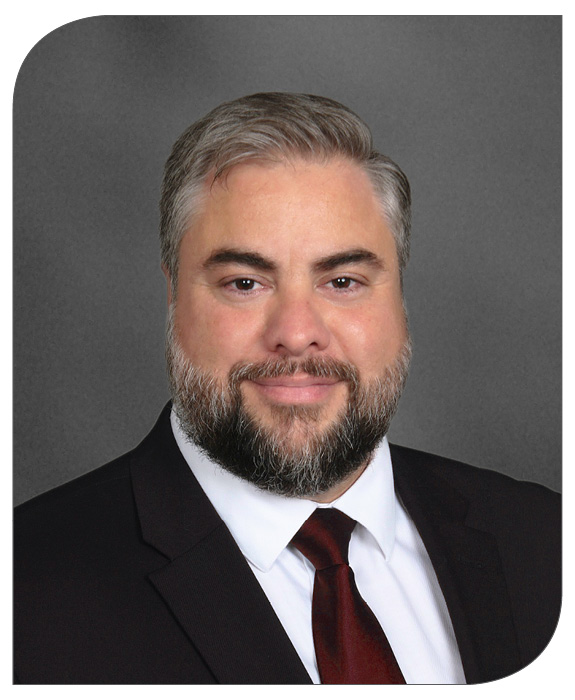 The tri-county area of South Florida closed the third quarter of 2022 with a 3.3% retail vacancy rate, down from 3.9% a year earlier. The average triple-net (NNN) asking rent surged year-over-year from $30.96 per square foot to $34.40. Miami-Dade County's vacancy rate ended the quarter at 3.2%, with average asking rents climbing all the way to $43 per square foot.
"The South Florida retail market continues to roll as vacancy has decreased across all three counties," Lee & Associates South Florida Principal Victor Pastor said. "Miami vacancy rate falls to 3.2% while average asking rents increased to $43 NNN. Broward and Palm Beach counties also show strong signs as vacancy fell to 3.6% while average rents rose to $26.56 and $28.02 respectively setting new highs in some areas. Institutional capital in the hundreds of millions continues to flow into South Florida as investors seek growth and shelter from Wall Street declines."
Industrial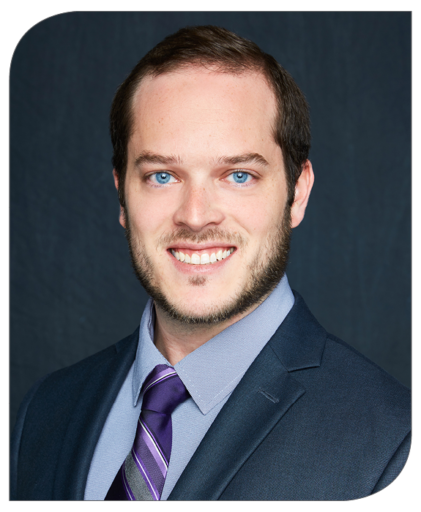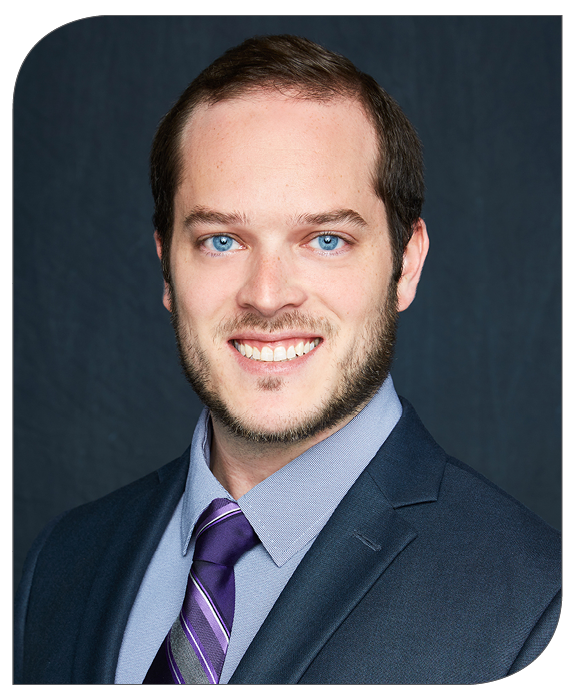 In the industrial sector, South Florida's vacancy rate dropped from 3.5% in the third quarter of 2021 to a razor thin 2.5% in Q3 of 2022. The average triple-net (NNN) asking rent jumped year-over-year from $10.95 per square foot to $13.12 for the tri-county area. A third consecutive quarterly drop in net absorption to 11.27 million square feet raises questions about the future development pipeline, however.
"Institutions and private investors have continued to allocate capital to the supply constrained South Florida Industrial market during Q3," Lee & Associates South Florida Vice President Conner Milford said. "Occupiers are now seeing benefits from the post-Covid supply chain shake-up and the efficiency of local ports (see Florida Ports & Logistics Report 2022 by William Domsky, Lee & Associates) have catalyzed the filling of their warehouses. However, hesitancy towards taking the additional warehouse space needed is demonstrated by the third consecutive quarterly drop in net absorption. We attribute this hesitancy to the economic uncertainty from Russia's war in Ukraine and The Fed's aggressive interest rate hikes paired with sticker shock from Landlords' steady rent increases over the past few years. Due to strong fundamentals, as the 11M SF Under Construction are delivered over the next few quarters we expect vacancy rates to stay below the national average as net migration to Florida is expected to remain positive and as E-commerce sales continue to grow maintaining strong levels of demand for well situated warehouse space."
Multifamily
The local multifamily sector is in a holding pattern for investment sales activity despite substantial demand from investors. Asking rents rose year-over-year from $1,897/month to $2,048/month, but a quarterly decline from $2,056/month is a sign that rents may finally be leveling off after a lengthy run-up period. Vacancies increased year-over-year from 3.3% to 4.5%.
"Multifamily transactions have slowed due to increasing interest rates. A lot of sellers are not motivated to adjust pricing to reflect interest rate increases because they have no desire to be buyers in this higher interest rate environment," Lee & Associates Principal Matthew Jacocks said. "There is still a lot of capital searching for deals. Rents in multifamily have showed signs of leveling into a more inflationary increases. Multifamily development has it's challenges with higher interest rates, 25% increase in construction cost since December 2021 and high land cost but regardless the demand is still very much there in South Florida land scares market. The demand will likely increase even further as would-be buyers chose to rent instead due to higher interest rates on residential loans."
Office
South Florida's office sector benefitted from headline-grabbing leases in Q3 of 2022, including Goldman Sachs doubling its space at downtown Miami's Southeast Financial Center and cryptocurrency exchange FTX relocating its U.S. headquarters from Chicago to Miami. The region's vacancy rate dropped from 9.3% to 8.8% year-over-year. Average asking rents jumped from $32.16 per square foot NNN in the third quarter of 2021 to $35.94.
"The Southeast Florida tri-county market area was spared by Hurricane Ian, and the Office sector remained steadfast," Lee & Associates South Florida Senior Vice President Matthew Katzen said. "Overall asking rents for South Florida office space maintained their upward trajectory, increasing 7.9% year-over-year (YOY) from the $44.35 per square feet (psf) average recorded one year ago. Some notable transactions include Goldman Sachs which took a 35,000-square-foot lease at Southeast Financial Center in Downtown Miami, doubling its existing footprint. Cryptocurrency exchange FTX is ditching Chicago and making Miami its new U.S. headquarters as well, continuing to demonstrate the ongoing trend of business migration into the region."
South Florida Q3 Market Reports
INDUSTRIAL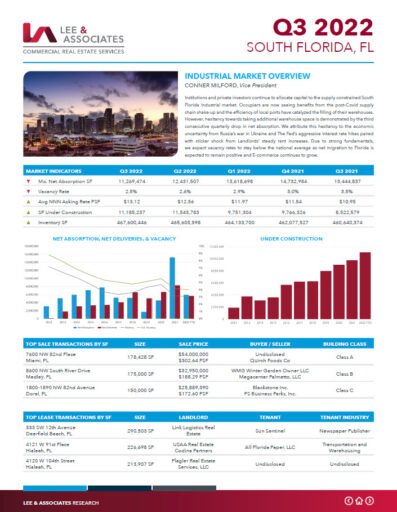 MULTIFAMILY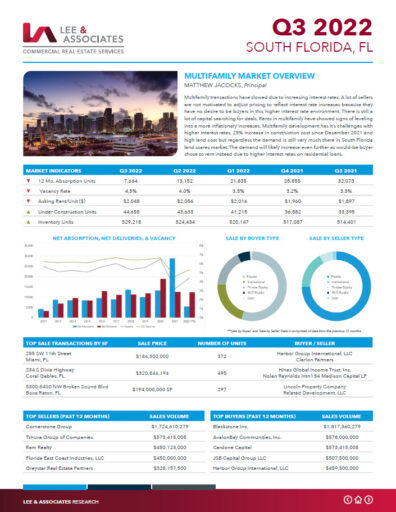 OFFICE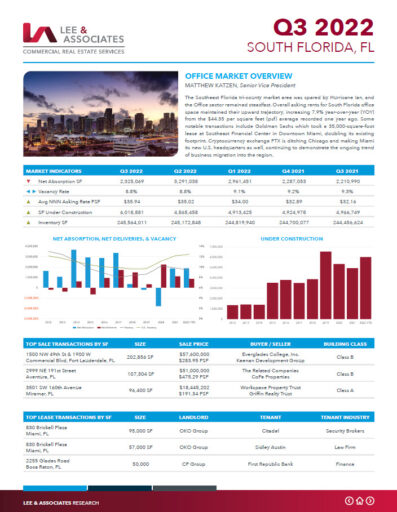 RETAIL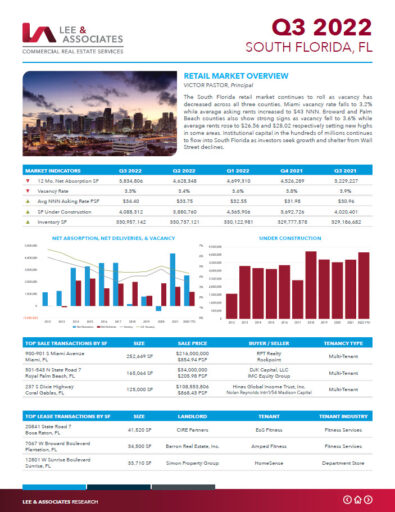 About Lee & Associates | South Florida
Lee & Associates | South Florida is a fully vertical commercial real estate brokerage firm focused on industrial, office, retail, multifamily, investment and land sectors. Our dedicated team of professionals is led by Matthew Rotolante, CCIM, SIOR a 4th generation South Florida native in a family that has owned and operated commercial property here since 1928. Lee & Associates is the largest agent owned brokerage in the nation with Senior Agent's ability to earn profit share resulting in the highest splits while still receiving full resources, support and leads from our national network. Our collaborative and cheerful culture allows for open communications throughout the company, fostering the sharing of information and best practices to better enable client decision making.  The Lee & Associates' robust national network that sold and leased nearly $32.4 Billion in 2021 offers clients a cross-market platform of expertise and deal opportunities across all asset specialties and representation roles. For the latest news from Lee & Associates South Florida, visit leesouthflorida.com or follow us on Facebook, LinkedIn, Twitter and Instagram, our company local news.
Lee & Associates is a commercial real estate brokerage sales, leasing and management firm. Established in 1979, Lee & Associates has grown its service platform to include over 75 offices in the United States and Canada. Lee & Associates is the largest agent owned commercial real estate brokerage where agents get the greatest return for their efforts and hence are more committed and better enabled to provide superior results for their customers.  For the latest news from Lee & Associates, visit lee-associates.com or follow us on Facebook, LinkedIn, Twitter and Link, our company blog.