Lee & Associates' Reed Vestal Named 2019 Connect Media Next Generation Award Recipient
 Next Generation Honoree: Lee & Associates'
Reed Vestal is Tenacious, Driven and Dedicated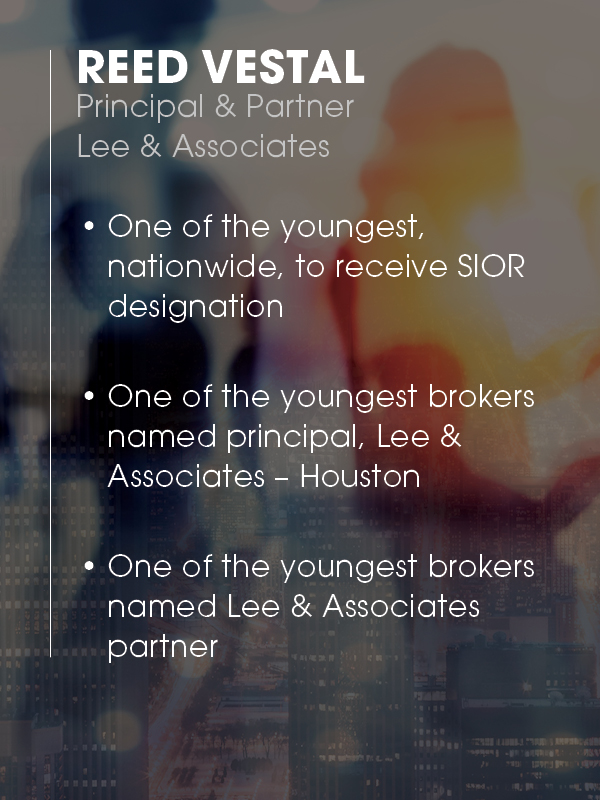 August 15, 2019 (HOUSTON, TX) – Reed Vestal, principal and partner with Lee & Associates — Houston, focuses on industrial, land and investment brokerage. He also manages the office by devising and executing business strategy. And, his hard work on behalf of clients, as well as dedication and tenacity, make him one of the youngest brokers to be named principal in the Houston office, and partner through the Lee & Associates national network.
"Throughout his time with Lee & Associates – Houston, he has surpassed all of our expectations and more," said Mike Spears, managing principal with Lee & Associates' Houston office. "Since joining our company, Reed continues to be ranked among the firm's top producers each year." Spears uses other words to describe his colleague: "Problem solver," "gifted" and "ethical" are a few of them.
Vestal achieved CCIM member designation. He also obtained SIOR designation, making him one of the youngest, nationwide, to receive the honor. NAIOP honored in him with the "Rising Star Award — Industrial," and the Houston Business Journal named him a "Heavy Hitter," three years in a row.
About Lee & Associates Commercial Real Estate Services
Lee & Associates is a fully-integrated commercial real estate company with unrivaled capabilities and an unwavering dedication to integrity. Our business-minded brokers specialize in office, industrial, retail, multi-family, land, investment services, corporate solutions, and valuation and appraisal services. As the fastest-growing broker-owned firm in the nation, with 60+ office locations in North America, we are uniquely qualified to support our clients' real estate needs in the local, national and international markets. For more information, visit www.lee-associates.com/.