Case Study – Island Lanai Apartments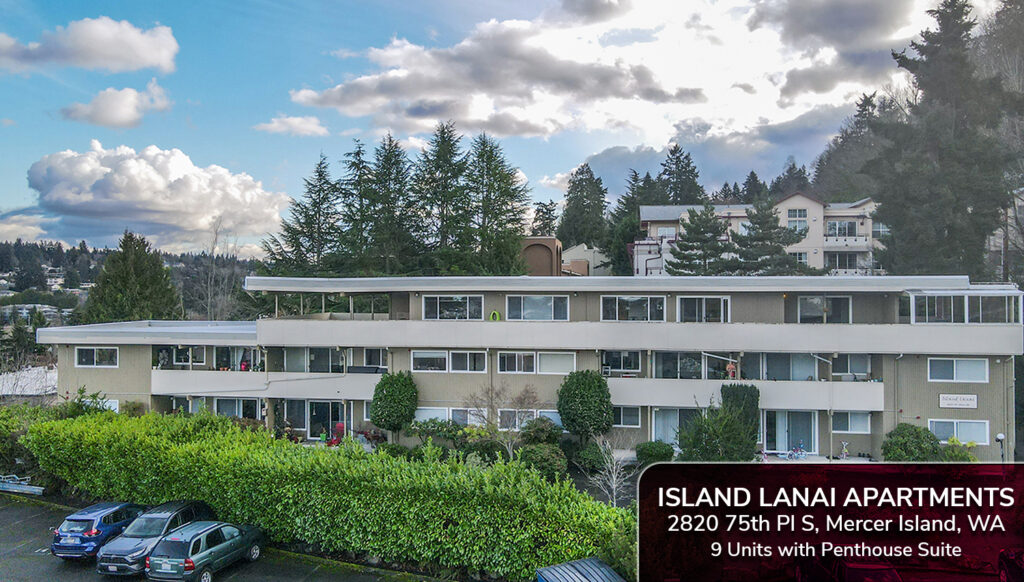 Key Deal Points
2820 75th Place S, Mercer Island, WA
9 units with penthouse suite
13 offers
Sold at $400K over list
All cash buyer, non-contingent offer
On market to Close in 51 days
Candice, Daniel, and Dea of Lee & Associates are dedicated, knowledgeable and hard-working professionals.  They developed an excellent marketing strategy and process that lead to multiple high-quality offers.  We were incredibly pleased with the sales results.

They initially explained the selling process and kept us informed each step of the process.  They were responsive to any questions or concerns we had and thoroughly addressed any issues.

The team established a good working relationship with our property manager during the sales period.

We will definitely rely on Candice and her team for our future commercial real estate needs.

- The Hoover Family
The Challenge
Having inherited the property from their parents, Ownership had dutifully maintained the building for many years but had finally exhausted their tax basis. They were ready to go their separates ways and realize the equity from their inheritance. They knew they wanted a discreet sale process, that would still maximize their proceeds to reflecting the caliber and quality of the asset.
Our Approach
The Lee & Associates Multifamily team created a marketing plan for the building that highlighted this very well-located and maintained building. The team recognized that Island Lanai would appeal not only to syndicator and rehab investment groups, but also to high net worth families local to Mercer Island. In addition to leveraging the local brokerage community through CBA and NWMLS, Candice, Daniel and Dea tailored a targeted outreach program that included direct email to known buyer groups and a rooftop campaign directly calling on owners of multifamily on Mercer Island.
The result of this targeted marketing was astounding. In just two weeks the listing received over 164 inquires and 13 offers were collected on the call for offers day. In order to minimize the impact to tenants while maximizing the competitive environment for the client, the team structured a Best and Final Round which incorporated a full access walkthrough of the property on a single day for a select group of buyers. Once through the building, buyers had the opportunity to tighten terms and pricing, resulting in non-contingent offers that pushed pricing 11% over list.
The Outcome
The team's work to harness multiple marketing channels and structure a clear offer process allowed buyers to comfortably and enthusiastically engage and compete in writing non-contingent offers. The Sellers received a strong price while minimizing the impact of the sales process on the tenants.
For more information regarding this case study, please contact:
Candice Chevaillier, CCIM

Principal
D  (206) 773-2694
cchevaillier@lee-associates.com

Daniel Lim

Senior Associate
D  (206) 773-2692
dlim@lee-associates.com

Dea Sumantri

Associate
D  (206) 773-2680
dsumantri@lee-associates.com
NEW FROM THE MEDIA CENTER...