$24.5 MILLION MALTBY SINGLE TENANT INDUSTRIAL PURCHASE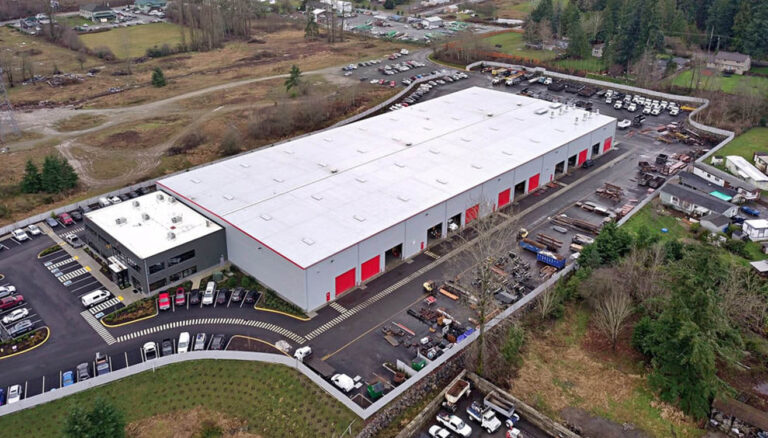 104,672 SF Manufacturing Building Sells for $24.5 Million
August 25, 2022 (Bellevue, WA) – Lee & Associates Commercial Real Estate Services is pleased to have assisted Cairn West in its acquisition of the OSW facility, a 104,672 SF industrial/heavy manufacturing building centrally located in Maltby, WA.
The OSW Building, which transacted at $24,500,000, was completed in 2018 and is a specialty single tenant industrial and manufacturing building located on 10.14 acres. The state-of-the-art facility was originally built for OSW Equipment and Repair and its foundation was designed to accommodate 5-ton overhead cranes in almost every bay, a large press break weighing over 300,000 pounds, two substantial sized paint booths, and a mixing room. Also incorporated into the building's infrastructure are large gas and electrical loads along with a detention vault that is over 485 feet long. OSW manufactures products for the construction, transportation, industrial and mining industries and is a subsidiary of Federal Signal Corporation.
"It was a pleasure to work with Cairn West to exchange 1031 proceeds from a previous sale into a stable close-in industrial asset and market with tremendous upside.  We were happy to have come to terms off-market with the Seller and his representatives, Kidder Matthews, to close this transaction within an expedited timeline," noted Adrienne Hunter, Senior Vice President at Lee & Associates.
The Lee & Associates team of Adrienne Hunter and Jim Reed represented the interest of the Buyer, Cairn West, in this transaction.
ABOUT LEE & ASSOCIATES
Lee & Associates offers an array of real estate services tailored to meet the needs of the company's clients, including commercial real estate brokerage, integrated services, and construction services. Established in 1979, Lee & Associates is now an international firm with offices throughout the United States and Canada. Our professionals regularly collaborate to make sure they are providing their clients with the most advanced, up-to-date market technology and information. For the latest news from Lee & Associates, visit lee-associates.com or follow us on Facebook, LinkedIn, Twitter and Link, our company blog.
###